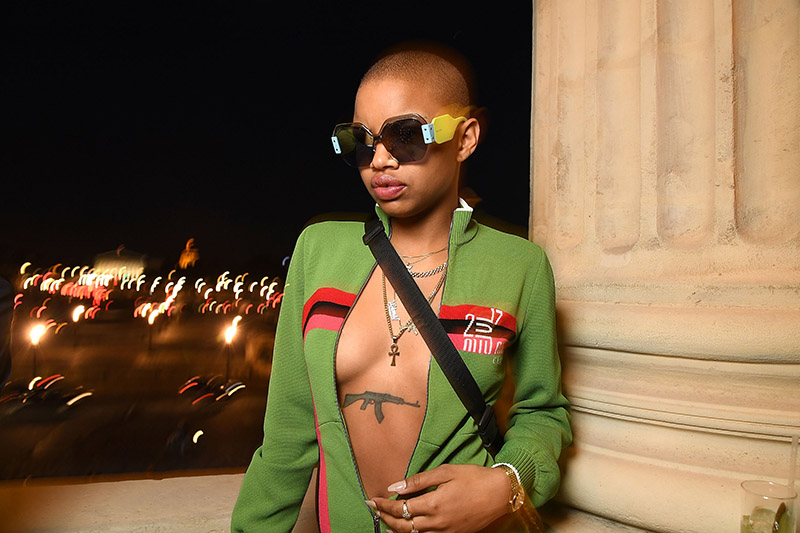 Model Slick Woods is undergoing chemotherapy treatment for stage three melanoma cancer. The Love & Hip-Hop: Hollywood cast member announced she was undergoing chemotherapy for stage 3 melanoma cancer on Wednesday.
The Fenty Beauty model, real name Simone Marie Thompson, is best known for her signature bald head and gapped front teeth.
She shared an Instagram photo of herself sticking out her tongue while hanging out with her boyfriend Micky Munday and some friends. "How I feel about chemotherapy, shout out to everyone that gotta go through it #atleastimalreadybald," the 23 year old wrote in the accompanying caption. Woods joined the LHH franchise last year when she began dating Munday.
Woods told The Shade Room Instagram blog she was battling stage three melanoma cancer, meaning her cancer has spread to her lymph nodes. TSR added the star is "fighting for her life".
While she didn't share the location of her cancer, melanomas typical involve the skin cells, such as in melanocyte cells, aka melanin-producing cells. It can appear on women's breasts, ears, arms, back and legs, but it can also occur in the mouth or mucous membranes, such as the vagina, intestines or bowels.
Skin melanoma is more dangerous because the cancer can spread quickly to other organs in the body if not treated early.
Risk factors for melanoma of the breasts include family history of breast cancer, exposure to the sun, friction caused by tight bras, age and inherited genes, such as BRCA1 and BRCA2, starting periods early, starting menopause after age 55.
Woods' fans rushed to send their well wishes to the beauty following her initial post, but Slick took to her Instagram Stories to urge followers not to pity her, declaring: "Stop treating me like a victim."
Meanwhile, celebrity pals including Taraji P. Henson also sent supportive messages, with the Empire star penning: "You are already on the other side of this heathy (sic) and strong like it never happened. I adore you."
Power actress La La Anthony also wrote: "Love u sis."