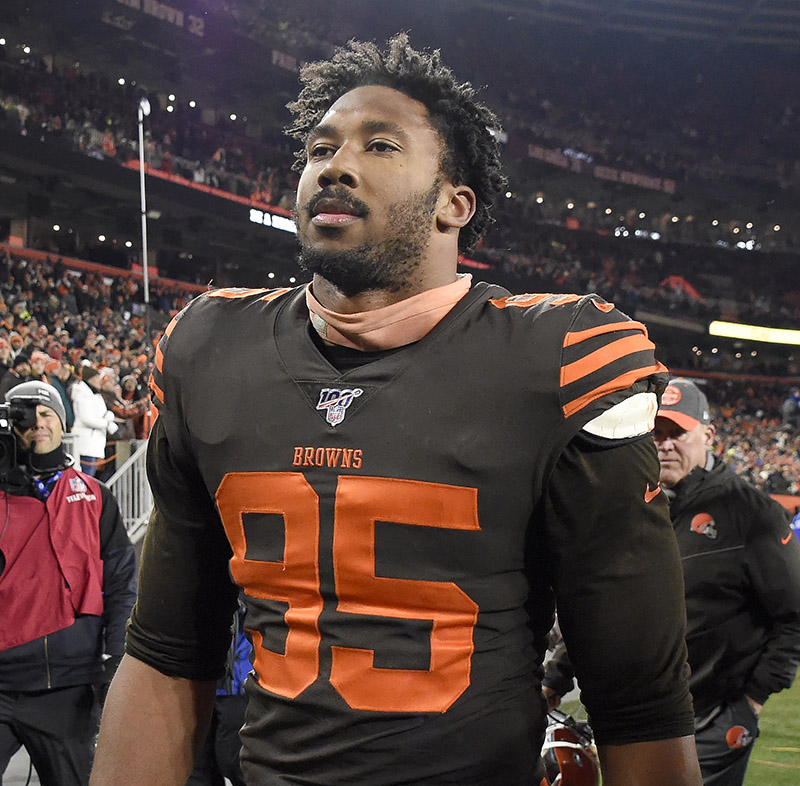 An appeals officer upheld Myles Garrett's indefinite suspension for bashing Steelers quarterback Mason Rudolph over the head with his own helmet during a game last week.
Garrett attended the appeals hearing in New York City on Wednesday. He was suspended indefinitely without pay for using Rudolph's helmet "as a weapon." He was also fined $45,623, according to ESPN.
Appeals officer Derrick Brooks, a former NFL linebacker, decided the Cleveland Browns star's punishment was fair, despite Garrett's claims that he swung the helmet at Rudolph's head because the quarterback called him a racial slur.
Rudolph, through his agent, "vehemently" denied the accusation. NFL spokesman Brian McCarthy said the league investigated Garrett's claim and "found no such evidence."
Garrett never mentioned a racial slur in interviews after the game, even though reporters asked him whether Rudolph said anything to him.
Garrett stood by his claim in a Twitter post, saying he didn't want his accusation against Rudolph made public.
"I was assured that the hearing was space that afforded the opportunity to speak openly and honestly about the incident that led to my suspension," he wrote.
"This was not meant for public dissemination, nor was it a convenient attempt to justify my actions or restore my image in the eyes of those I disappointed. I know what I heard. Whether my opponent's comment was born out of frustration or ignorance, I cannot say. But his actions do not excuse my lack of restraint in the moment, and I truly regret the impact this has had on the league, the Browns and our devoted fans."
Garrett, who was considered the best player on the Browns team, will not play for the rest of the season and he will likely miss some games next year as well.
Steelers player Cameron Heyward defended Rudolph, suggesting Garrett made up an excuse to save his NFL career.
Heyward said Rudolph was "distraught" over Garrett's allegation. "Mason came to me and said, 'I did not say that.'"
Heyward added: "I think using any kind of racial slurs has no place in our country whatsoever, but I think fabricating a story where somebody used a racial slur is a lot more damaging."