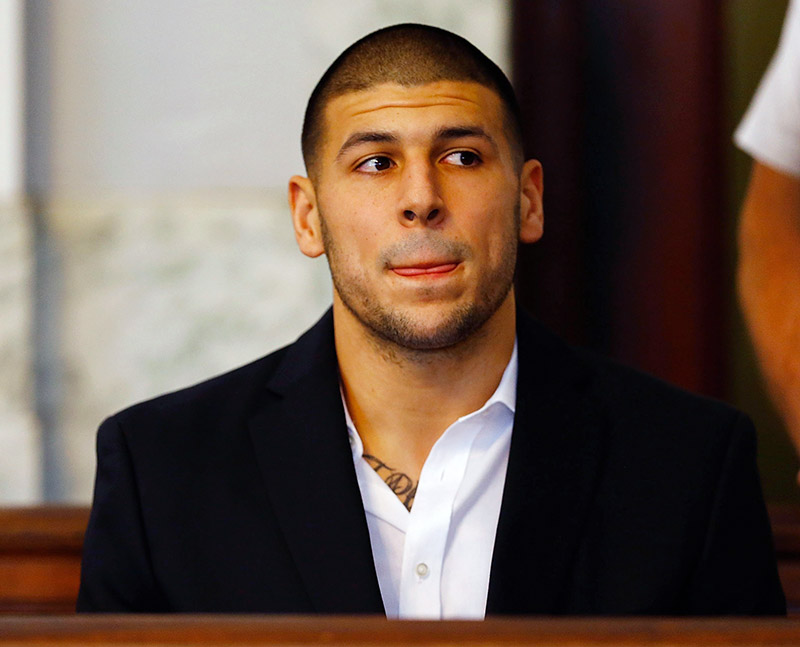 Aaron Hernandez has been linked to a 4th murder two years after he died by suicide in a prison cell. Investigators have linked the late New England Patriots star to a 4th murder, RadarOnline.com reports exclusively.
The former Pro Bowl tight end was accused of killing his friend Odin Lloyd because he believed the professional football player was about to out him as a bisexual. Hernandez was previously investigated for a double homicide in 2012.
Hernandez was sentenced to life in prison in 2015. While behind bars, he reportedly bragged to his prison lover about committing a 4th murder. Hernandez took his own life in his prison cell in 2017 at age 27.
In a new book by journalist Dylan Howard, titled Aaron Hernandez's Killing Fields, Hernandez's cellmate and boyfriend, Kyle Kennedy, said: "[Aaron] always used to tell me he had four murders. He would just always, all the time joke around saying 'I got four bodies.'"
The book described Hernandez and his "crew of thugs" piling into a car in search of Lloyd about a week before he was killed. But instead of finding Lloyd, the men found Jordan Miller, who was gunned down in his home, according to Radar. Miller's murder remains unsolved.
In the book, former police detective Bo Dietl said Hernandez could have easily mistaken Miller for Lloyd because they looked alike.
"It sounds like Hernandez gets a tip from one of his goonies. That Odin Lloyd is at this location. [Then] Jordan Miller is shot inside his home, from [a] drive-by shooting through the window … It's very possible that Odin Lloyd could have been in that apartment, and if they look similar, which I believe they do. They shot the wrong guy that time."
Dietl added: "I don't care if he pulled the trigger or not, if Aaron Hernandez was involved with the conspiracy to murder Odin Lloyd and Jordan Miller, it's the same as pulling the trigger."