House impeachment managers made their opening statements on day 2 of Donald Trump's impeachment trial on the Senate floor on Wednesday, Jan. 22.
The 7 House Democrat impeachment managers are pictured (L-R) Rep. Jason Crow, of Colorado; Val Demings, of Florida; Sen. Adam Schiff, of California; Rep. Sylvia Garcia, of Texas; Rep. Zoe Lofgren, of California; Rep. Jerrold "Jerry" Nadler, of NY; and Rep. Hakeem Jeffries, of NY.
Tuesday's opening session drew 11 million TV viewers. Republicans seemed uninterested and bored as lead manager Schiff pleaded for help removing "corrupt" President Trump from office on Wednesday.
President Trump is on trial for abuse of power and obstruction of justice. He was impeached by House Democrats in December.
Now it's the Senate's turn to either vote to remove Trump from office or acquit him of all charges.
House Intelligence Chairman Adam Schiff invoked the founding fathers and quoted Alexander Hamilton in his lengthy opening statement.
As Schiff's opening statement dragged on, some Republican Senators left their seats and disappeared into the hall.
According to the NY Daily News, at one point, South Carolina Senator Lindsay Graham was gone for 30 minutes. Other senators also disappeared for lengthy coffee breaks while Schiff spoke to empty seats.
Democratic senators who sat and listened to 9 hours of opening statements were dismayed and "disheartened" at the lack of interest shown by their Republican counterparts.
"I don't have any insight into what they're thinking, but there are moments in a trial when people vote with their feet," said Delaware Senator Chris Coons.
"Jurors don't get to do that in a real jury. We are acting as if [we're] a jury, and it is somewhat disconcerting to have folks absent for long periods of time."
But Louisiana Sen. Bill Cassidy begged to differ.
Cassidy, who took two 20-minute breaks, said it wasn't necessary for him to sit there and listen to the same evidence he has already heard.
"If they say something I've not previously heard I write it down. Just new facts, it helps me focus," Cassidy said.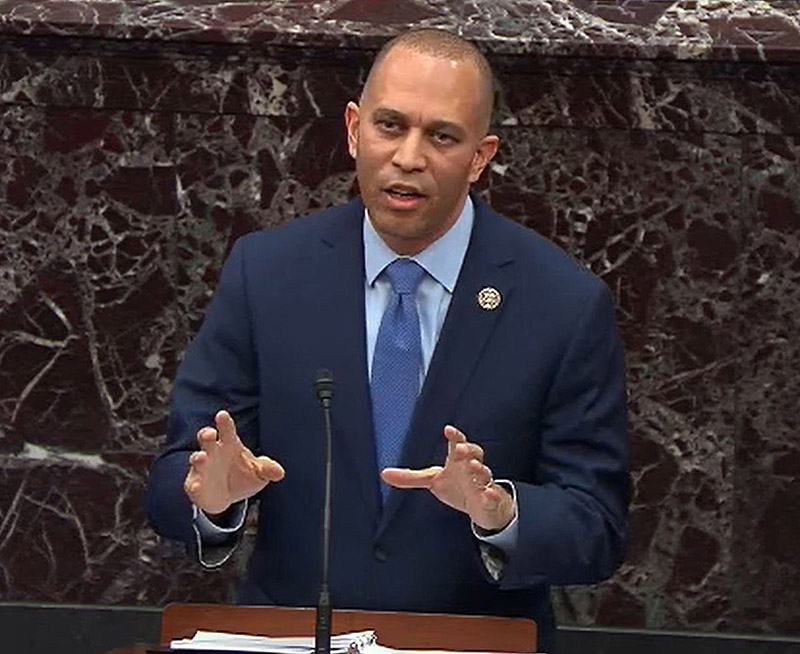 Hakeem Jeffries, who quoted the late rapper Notorious B.I.G., was interrupted by a heckler during his opening statement.
Screaming protester interrupts Rep. Jeffries during the impeachment trial pic.twitter.com/bsh6OI5cXP

— Breaking911 (@Breaking911) January 22, 2020
House Democrats hope to convince at least four Republicans to vote with them to allow subpoenas of records and key witnesses including national security advisor John Bolton and White House chief of staff Mick Mulvaney.
Republicans offered a horse-trading deal to allow testimony by Bolton in exchange for authorizing them to subpoena Joe or Hunter Biden.
But Democrats quickly shot down the deal. "That's off the table," said Senate Minority Leader Chuck Schumer (D-NY).
Joe Biden, who was in Iowa speaking to voters on Wednesday, also said no to the deal.
"The reason I would not make the deal, the bottom line is, this is a constitutional issue," Biden said. "We're not going to turn it into a farce or political theater. I want no part of that."
House managers are expected to continue their opening statements on Thursday and Friday. Each side is given 24 hours for opening statements before Trump's legal team is allowed to rebut.
There are rumors that Trump's lawyers may rest their case without any rebuttal. But Trump's legal team denied the rumors.
"There's a lot of things I'd like to rebut," said Trump's top lawyer Jay Sekulow, "and we will rebut."
After the rebuttal, the Senate will vote to acquit or remove the president without calling any witnesses.
President Trump, who is attending the economic forum in Switzerland, is optimistic of a quick acquittal.
"We have a great case," he told reporters.
Trump said he didn't object to Bolton or other witnesses testifying during the Senate trial, but he claimed "national security" concerns might prevent them from doing so.
Trump blocked Bolton and other key witnesses from testifying during the House impeachment hearings in December.
The Senate trial is expected to wrap up next week.