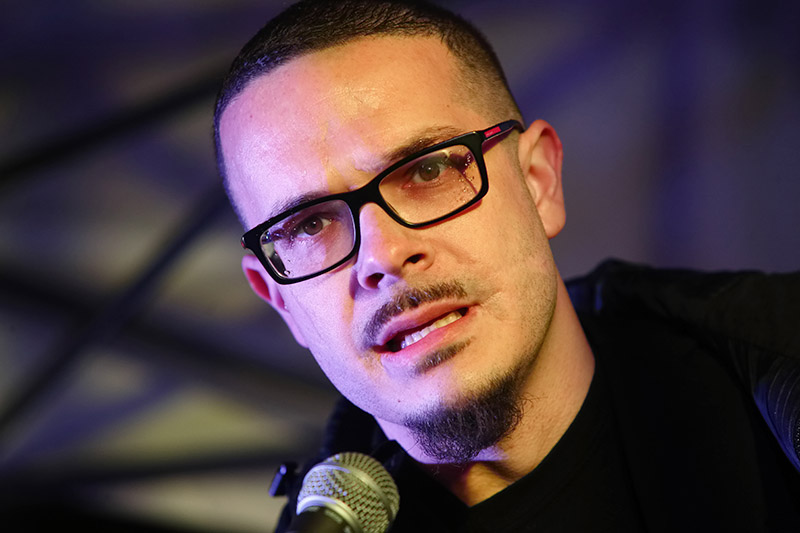 Black Twitter roasted transracial activist Shaun King for trying to profit off the death of actor Chadwick Boseman.
Boseman died Friday after a 4-year battle with colon cancer. He was 43.
In an email to his subscribers, King wrote: "I hope that you are hanging in there. Yesterday I sent an email checking in on everybody – and just a few hours later we learned of the death of Chadwick Boseman. Life is so very fragile. Tomorrow is not promised."
King then asked his subscribers to purchase his book — while denying he is selling his book for profit or personal gain.
He wrote: "I hate to even have to say this – but when I write an email like this, it's not for profit, or personal gain. I don't make a dime off of selling books. I was paid a year ago. I write the emails to help get us on the same page."
Black Twitter was enraged that King would stoop that low to use the beloved actor's death for profit.
"Crooker T. Washington is at it again. This time fundraising off Chadwick Boseman's death," tweeted user @notcapnamerica.
@franklinleonard wrote: "Do not give @shaunking your money, your time, or your respect."
And @VeryWhiteGuy tweeted: "Shaun King is using Chadwicks death to sell books, he claims don't make him any money. I'm so tired of SK profiting off of Black death."
King, a Caucasian man who insists he is African American, was once celebrated as a social justice activist and ally to the Black community.
But he was exposed as a fraud when a family member revealed both of his parents are white.
As a result, King's fundraisers have come up short of their goals, forcing the activist to scramble to find new ways to support his family's lavish lifestyle.
Black Twitter had a field day adding to the growing list of Shaun King nicknames on Saturday. Our personal favorites are "W.E.B. Defraud" and "Thurgood Partial."
W.E.B. DeFraud is at it again. pic.twitter.com/AE6nv82C4L

— chris evans (@notcapnamerica) August 26, 2020
Updated list of Shaun King nicknames:

Talcum X
Thurgood Partial
W.E.B Du Blanc
Snow J Simpson
Martin Luther Cream
Cream Abdul-Jabbar
Iggy Apalea
James Pearl Jones
Tupac Sugar
Blankston Hughes
T'Chalka
Chalka Con
Jaleel White

— Jason ?? (@Vision365) January 19, 2019
Shaun King, aka Alexander Scamilton, aka W.E.B DuBroke, aka Busted Douglass, aka Fraud Hampton, is a fraud, a cheat, and fucking shill. STOP GIVING HIM MONEY.

— Nani ?? (@lenubienne) August 29, 2020
shaun king is never seeing heaven

— maybe: diane? (@dianelyssa) August 29, 2020
Daily reminder that Shaun King is a white boy pretending to be black. pic.twitter.com/CNhToGjYxi

— H O G S (@FuccATyler) August 27, 2020