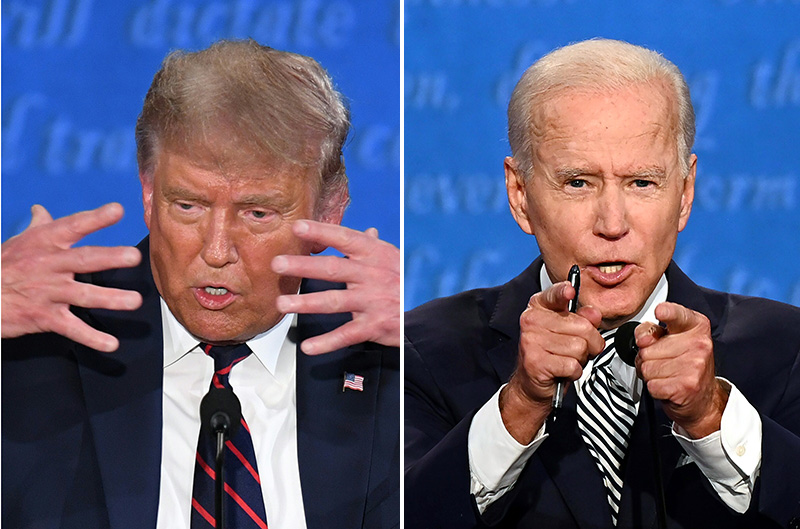 CNN anchor Dana Bash summed up last night's debate between President Donald Trump and Democratic candidate Joe Biden as a "shitshow."
????

They're freaking out pic.twitter.com/eeaqLLDCGk

— Cassandra Fairbanks (@CassandraRules) September 30, 2020
The first debate between Trump and Biden took place Tuesday night at the Cleveland Clinic in Cleveland, Ohio.
Millions tuned in to see whether Biden, 77, would hold his own against 74-year-old Trump, who was predicted to crush Biden in a seemingly one-sided debate.
But the unexpected happened.
In contrast to 2016, when a confident, self-assured Trump stalked debate challenger Hillary Clinton onstage, Trump seemed nervous and anxious at times last night.
Biden was clearly more prepared with his answers to moderator Chris Wallace's questions.
The Fox News host, who is a registered Democrat, faced criticism after the debate for showing favoritism toward Biden.
Wallace, the son of "60 Minutes" icon Mike Wallace, constantly chastised Trump for talking over Biden.
"I guess I'm debating you, not him. But that's okay," Trump told Wallace.
Wallace faced fierce backlash from conservatives and his own colleagues over his apparent bias in favor of Biden.
The numbers don't lie: Wallace interrupted Trump 76 times, while interrupting Biden only 15 times.
At one point, when Trump attacked Biden for criticizing his administration's response to the fading coronavirus pandemic, Wallace jumped in to defend Biden.
Trump slammed Biden for claiming he attended Delaware State University, a historically Black college.
"Did you use the word 'smart?'" Trump asked Biden. "So you said you went to Delaware State, but you forgot the name of your college. You didn't go to Delaware State. You graduated either the lowest or almost the lowest in your class. Don't ever use the word 'smart' with me. Don't ever use that word."
Later, Wallace chided Trump for bringing up Biden's drug-addled son, Hunter Biden. But Wallace was silent as Biden called Trump names such as "clown" and "fool".
During one sequence, Wallace allowed Biden to speak for nearly 2 minutes uninterrupted. But when it was Trump's turn to rebut Biden, Wallace constantly interrupted Trump and wouldn't let him finish.
Joe Biden on President Trump: "He's the racist." #Debates2020 pic.twitter.com/eNaCGhb4cH

— The Hill (@thehill) September 30, 2020
During another heated exchange between Trump and Wallace, Biden called Trump a "clown" and told him, "shut up, man".
Former Vice President Biden on President Trump: "It's hard to get any word in with this clown. Excuse me, this person." https://t.co/5Bl4Ob3O2t#Debates2020 pic.twitter.com/y2hXjMXX5r

— ABC News (@ABC) September 30, 2020
Former journalist Dan Rather called Trump a "bully" for running over Wallace and Biden like road kill.
Tump in full bully mode, running over moderator and Biden at almost every opportunity. Does this act win votes?

— Dan Rather (@DanRather) September 30, 2020
Actor James Woods tweeted that Wallace was "shamelessly biased".
Chris Wallace is shamelessly biased. It's a beautiful demonstration of fake news in action. I'm actually glad it's happening, because you can see it for yourself.

— James Woods (@RealJamesWoods) September 30, 2020
Fox News host Brian Kilmeade questioned his colleague's bias on Twitter.
"Why is @JoeBiden allowed to interrupt? @realDonaldTrump is not."
Why is @JoeBiden allowed to interrupt? @realDonaldTrump is not

— Brian Kilmeade (@kilmeade) September 30, 2020
And conservative activist Candace Owens questioned why Wallace asked Trump to condemn white supremacists, but didn't ask Biden to condemn Antifa, who are burning down cities and killing people.
Unbelievable. Every person in America knows these riots are being orchestrated by black lives matter and Antifa.

Chris Wallace asks the President to condemn white supremacists but did not think to ask Joe Biden to condemn Antifa or BLM. #Debate2020 #PresidentialDebate2020

— Candace Owens (@RealCandaceO) September 30, 2020
Most American viewers were undecided when asked to choose who won last night's debate. But Hispanic Telemundo News viewers were unanimous in their decision.
Now with video: @TelemundoNews asked their viewers who won the debate (Trump 66-34).
Anchor Felicidad Aveleyra: this isn't scientific! ? pic.twitter.com/ASk56HOOmd

— Jorge Bonilla (@BonillaJL) September 30, 2020
Watch the full Trump-Biden debate below.
Never allow Chris Wallace to moderate another debate again. This was an absolute shit show. The viewer wasn't even a secondary concern.

— Dana Loesch (@DLoesch) September 30, 2020
Trump authored the 94 crime bill, called a mayor the n word, said he didn't want his kids in jungles, supported segregation,was mentored by a kkk grand dragon, said all blacks think alike, called blacks cockroaches and knows who ain't black…..wait that was joe.

— Donald Blake (@DonaldBlake1) September 30, 2020