On Monday, January 18, Americans celebrate the birth of the late civil rights icon Dr. Martin Luther King, Jr.
Dr. King was born Michael King Jr. in Atlanta, Georgia, on January 15, 1929. He was assassinated on April 4, 1968 in Memphis, Tennessee.
Among the luminaries remembering Dr. King today is Star Trek veteran Nichelle Nichols who played Lt. Nyota Uhura in the original TV series.
In an interview with Emmy Legends, the iconic actress said Dr. King was a fan of Star Trek and he convinced her to stay on when she considered quitting the series.
Nichols said she'd already turned in her resignation when she had a chance meeting with King at an event.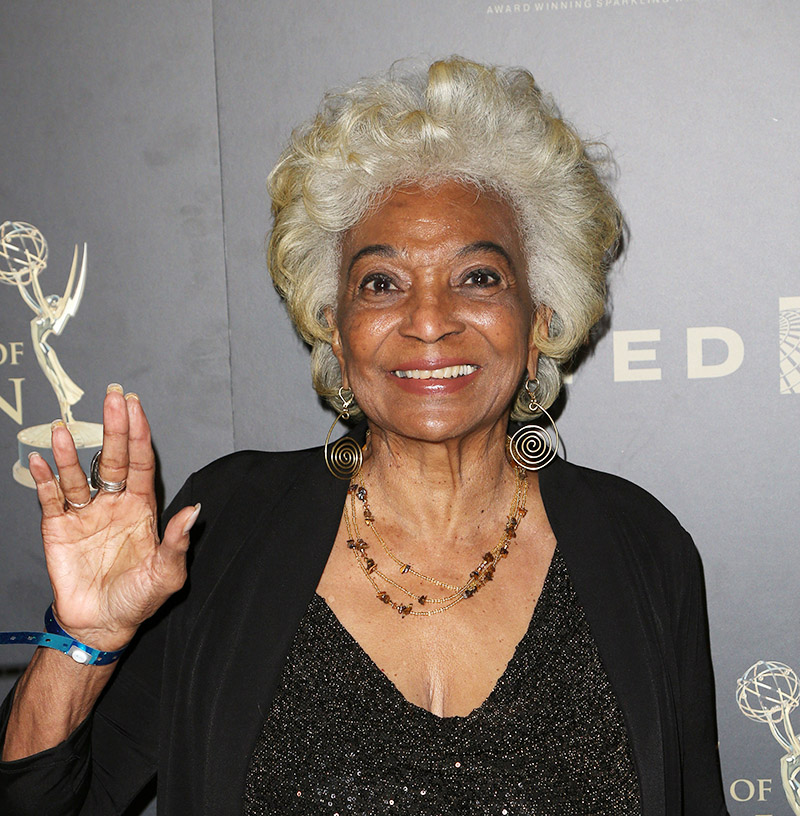 "I was to be a celebrity guest at some fundraiser in Beverly Hills," she said. "I believe that it was a NAACP fundraiser, but it might not have been but I think it was. And so, I went to do this on that Saturday night and I had just been taken to the desk and sat down when the organizer came over and said, 'Ms. Nichols, How are you? Listen, there's someone here who says that he's your biggest fan and he's desperate to meet you. He REALLY wants to meet you!' And I said, 'Well thank you!'
"…I turn and instead of a fan, there's this face that the WHOLE world knows with this beautiful smile on and I remember thinking, 'Whoever that fan is, is going to have to wait because Dr. King; Dr. Martin Luther King my leader is walking toward me about 10 feet away with a beautiful smile on his face!' and then this man says, 'Yes Ms. Nichols. I am THAT fan! I am your best fan, your greatest fan. And my family are your greatest fans. As a matter of fact, this is the ONLY show that my wife Coretta and I will allow our little children to watch; to stay up and watch because it's on past their bedtime.' And I said – which is all I was able to say because my mouth was open and closed. He said, 'We admire you greatly you know. The manner in which you create this role has dignity…' and before he said anything else I said, 'Dr. King, thank you so much.'"
Nichols told King she was leaving the show because her true love was Broadway and the theater.
"And he said, 'What do you mean?' Dead serious. 'What are you talking about?' I said, 'I'm going to leave Star Trek because I have an offer to star in a Broadway.' I never got that far [laughs]… he said, "You cannot!" and I felt like that little boy Arnold like – Whatchu talkin' about Dr. King? But you know I didn't say that! I was taken aback and I didn't say anything. I just looked at him. He said, 'If you leave Nichelle, Gene Roddenberry has opened a door for the world to see us. If you leave, that door can be closed because your role is not a Black role and it's NOT a female role. He can fill it with anything including an alien.'"
Nichols took the weekend to think it over. On Monday, she went to Gene Roddenberry's office to retract her resignation.
"I told him what happened and I said, 'If you still want me to stay, I'll stay. I have to.' And he opened his drawer and her looked up at me and said, 'God Bless Dr. Martin Luther King. Somebody knows where I am coming from!' and I said, 'That's what he said! [in my brain], and he took out my resignation which was torn into a hundred pieces and handed me the pile, and we just stood there looking at each other and I finally said, 'Thank you Gene.' And he said to me, 'Thank you Nichelle.' And my life has never been the same since and I've never looked back…"