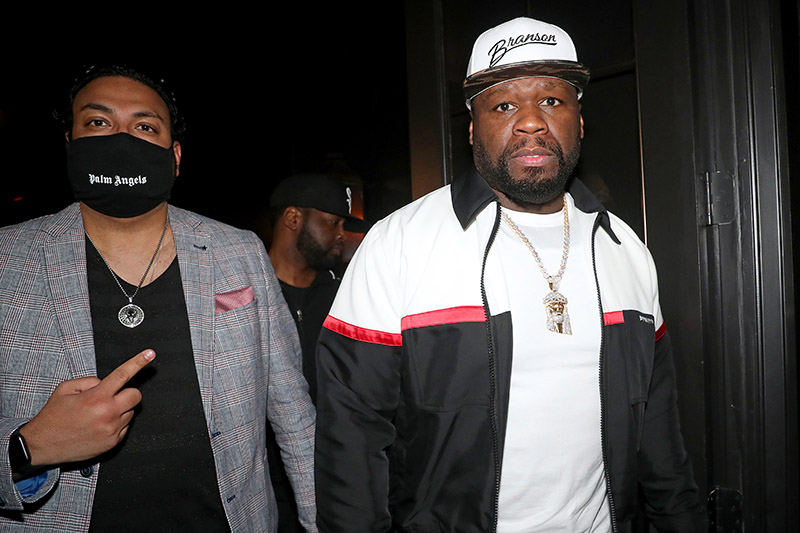 Curtis "50 Cent" Jackson III (right) has been accused of thumbing his nose at the coronavirus outbreak. Florida officials slammed the semi-retired rapper as "stupid" for hosting a maskless pre-Super Bowl party over the weekend.
The "In Da Club" rapper performed in front of a large crowd of maskless attendees inside a hangar at Albert Whitted Airport on Friday night, just two days before the sporting extravaganza was held in nearby Tampa.
St. Petersburg, Florida Mayor Rick Kriseman expressed his disbelief at the news via Twitter.
"This isn't how we should be celebrating the Super Bowl. It's not safe or smart. It's stupid," he wrote, before vowing to launch an investigation into the party.
"We're going to take a very close look at this, and it may end up costing someone a lot more than 50 cents."
Ironically, 50 was among the stars who urged fans to follow CDC guidelines on social distancing and face coverings at the start of the pandemic last March.
Other celebrities holding maskless parties in the Tampa area ahead of Super Bowl Sunday include superstar DJs Diplo and Steve Aoki, who made sure to keep their masks on, while rappers Migos were bare faced as they attended a Bounce pop-up party.
Rick Ross and French Montana co-hosted a bash at The Ritz Ybor attended by Flavor Flav and hip-hop stars Tory Lanez who joined hundreds of maskless guests.
According to the CDC, Black and brown people are among the groups disproportionately affected by the coronavirus. They are also the groups least likely to roll up their sleeves for the Covid-19 mRNA vaccines.

This is an open post where you can discuss any subject matter. This post will not be censored or moderated. Disqus may automatically moderate certain words considered offensive. There are no rules in Open Posts. So enter at your own risk.