The NBA is concerned about a cluster of unvaccinated players, including Kyrie Irving and LeBron James, who refuse to get the Covid-19 mRNA vaccines.
According to Rolling Stone magazine, the league is concerned that "leaders" like Kyrie Irving, 29, and LeBron James, 36, are jeopardizing their attempts to vaccinate the entire NBA.
The league front office is worried that Kyrie, in particular, will convince the younger players to reject the mRNA shots or the boosters.
Kyrie, star guard for the Brooklyn Nets, will likely comply with New York City's strict vaccine mandate which calls for unvaccinated NBA players to sit out all home games.
Kyrie's aunt said recently that NBA players could sit out all home games to protest the league's vaccine policies, which she calls oppressive.
"There are so many other players outside of him who are opting out, I would like to think they would make a way. It could be like every third game. So it still gives you a full season of being interactive and being on the court, but with the limitations that they're, of course, oppressing upon you. There can be some sort of formula where the NBA and the players can come to some sort of agreement."
She went on to say that Kyrie is not looking for a religious exemption.
"It's not religious-based, it's morals based. You may have to sit on the sideline, you might not have to be in the arena during this. If it's that freaking important to get a vaccine that, hell, it's still not preventing COVID, then I'd rather them working it out that way than to say, 'Hey, if you don't get the vaccine, then you can't be a part of the franchise that you fuckin' helped build.'"
According to CDC statistics, more than 74% of Black NY residents are unvaccinated. As a result, Black New Yorkers are most impacted by NYC's vaccine mandates.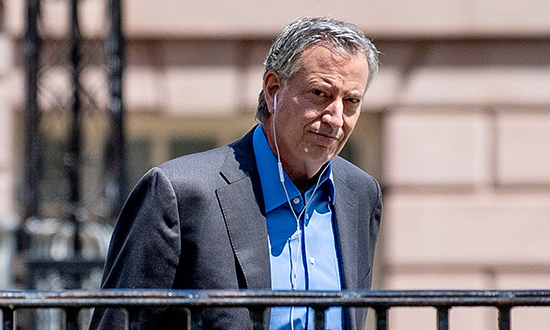 Black Lives Matter has accused New York City Mayor Bill de Blasio of discriminating against Black people.
One of the leaders of Black Lives Matter's Greater New York chapter slammed de Blasio, saying his "mandate is racist and specifically targets black New Yorkers."
Chivona Newsome calls de Blasio's vaccine mandates "modern-day Freedom Papers, which limit the free will of Black people."
"Although Mayor Bill De Blasio ran on progressives values, nothing in his tenure will attest to his campaign promises," Newsome told Fox News.
"The September 13th vaccine mandate is racist and specifically targets Black New Yorkers. The vaccination passports are modern-day Freedom Papers, which limit the free will of Black people.

"The vaccination mandates infringe upon the civil liberties of the Black community. It's more than where we can dine or enjoy entertainment, it will result in loss of income. As of Monday, September 27, Black health care workers and educators will lose their jobs."