Atlanta rapper Young Thug (pictured) was arrested Monday on charges of violating Georgia's RICO statute and criminal street gang activity.
The 30-year-old rapper, real name Jeffery Lamar Williams, was taken into custody Monday at his Buckhead mansion near Atlanta.
He is charged with conspiracy to violate the Racketeering, Influence and Corrupt Organization Act (RICO). The RICO Act was originally created to bring down the mafia.
Video footage posted to Twitter shows the rapper being taken into custody by Atlanta police.
Young Thug was booked into the Fulton County Jail on Monday evening and is being held without bond.
He is among 28 people named in felony indictments that were unsealed Monday. Thug's associate, rapper Gunna is also under indictment. Gunna is only facing racketeering charges.
Gunna, born Sergio Kitchens, 28, was not in police custody as of Monday night.

READ ALSO: Young Thug says 'broke people' should stop bringing kids into the world (Video)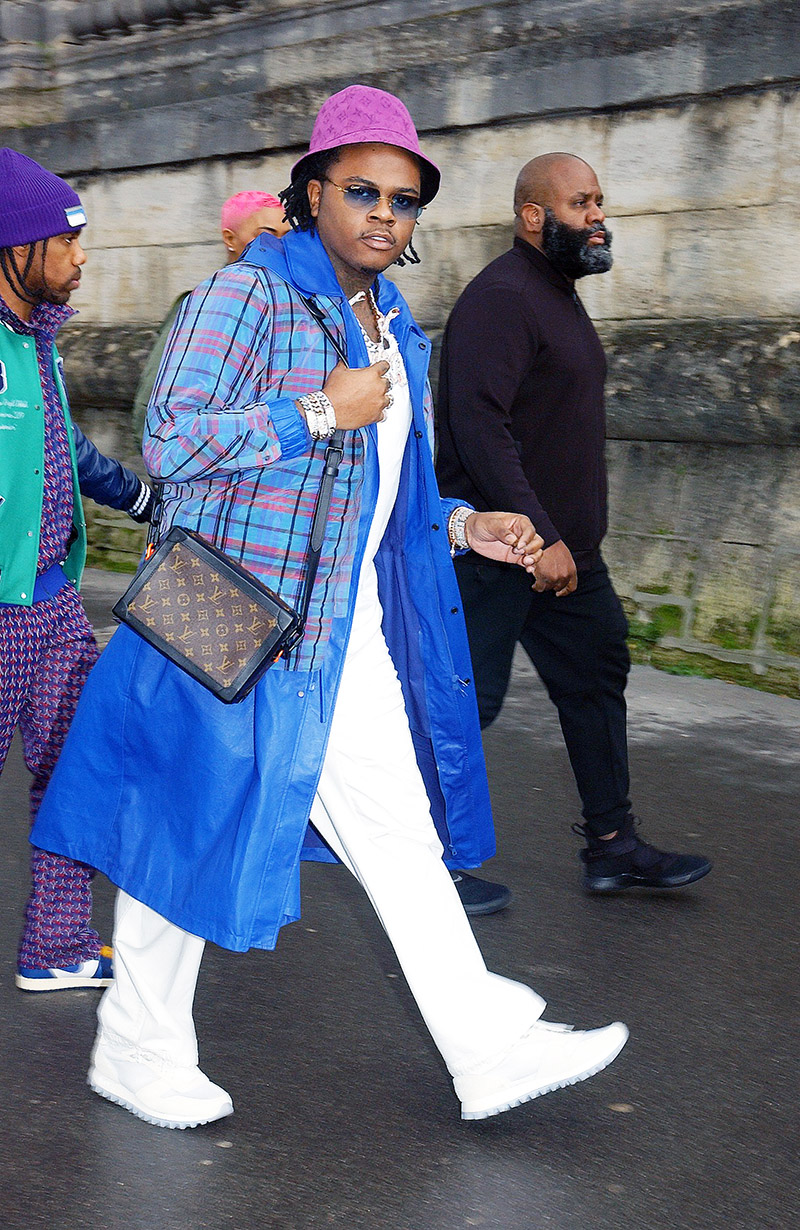 Police raided Young Thug's Atlanta mansion, tearing the house apart, knocking holes in walls, and even digging up the backyard, TMZ reports.
Young Thug is accused of renting a car that was used in the 2015 murder of a gang rival.
Also indicted were 26 members of the rapper's Young Slime Life (YSL) record label in Atlanta.
The feds accuse Thug, Gunna and YSL record label of affiliation with the national Bloods street gang.
The 88 page, 56-count indictment charged the defendants with obtaining money, weapons, and other property through acts of racketeering activity, including robbery, receiving stolen guns, theft, and the unlawful sale and distribution of drugs dating back to 2013.
Young Thug's attorney Brian Steel told Channel 2's Mark Winne he will fight "to my last drop of blood to clear him."
"We expect that in coming days weeks and months that we will bring RICO indictments against gang members even top level gang members to make sure that we rid them from our society," said Fulton County District Attorney Fani Willis in an interview with Winne last week.
In March, a gunman shot and killed the mother of Young Thug's 14-year-old son at an Atlanta bowling alley. A suspect was charged in that case.
Thug is expected to make his first court appearance Tuesday morning.



Correction: An earlier version of this post stated that the defendants were charged under the federal RICO Act. In fact, they are charged under Georgia's RICO law, a felony.