Khloe Kardashian showed off her thin frame while playing with her daughter True Thompson and her nieces and nephews at Malibu Beach on Tuesday.
She is pictured with True, 4, and niece Penny Disick, 10.
Auntie Khloe had fun running around with her daughter, True, and the Kardashian kids at Malibu beach.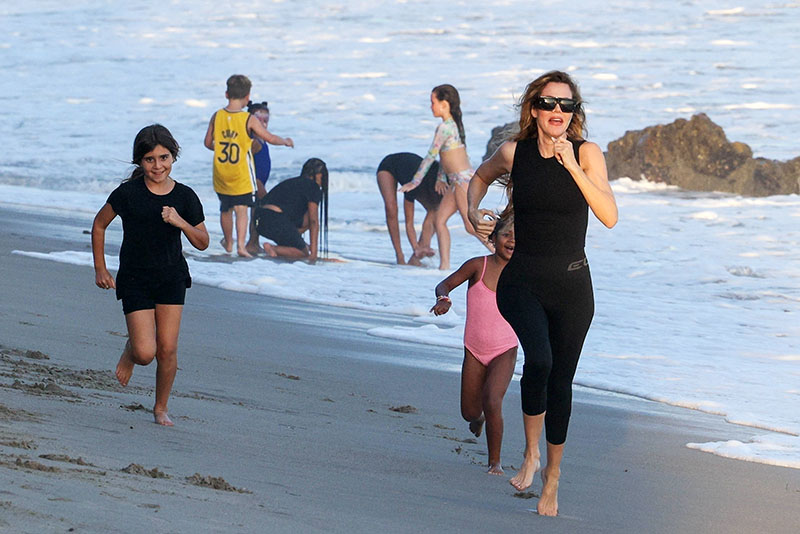 Khloe looked great in a black sleeveless top and black leggings. Her secret to staying thin is chasing her nieces and nephews all day.
Sources say Khloe, 38, has given up on men after slavishly devoting years of her life to serial cheater Tristan Thompson.
Khloe recently welcomed a son via a surrogate. She said she loves everything about being a mom of 2.
"I know it's cliché, but I love everything, even the hard parts," she told Elle magazine.
Khloe said her 2 children "challenge me as a person." She added that "being able to shape little people into really incredible big people is an honor and a gift."
Khloe said it's important to spend time with children, especially in the TikTok era. Taking electronics out of your children's hands and introducing them to play time is key to child development.
"We have to take those roles seriously, especially in today's day and age, with how much accessibility children have and the information they're exposed to so young. It's super scary, but I take my job very seriously. I love it so much."