Carmelo Anthony announced his retirement from the NBA in an Instagram post on Monday.
"I remember the days when I had nothing, just a ball on the court and a dream of something more," the 38-year-old retired athlete said in a video.
"Basketball was my outlet. My purpose was strong, my communities, the cities I represent with pride and the fans that supported me along the way, I am forever grateful for those people and places because they made me Carmelo Anthony."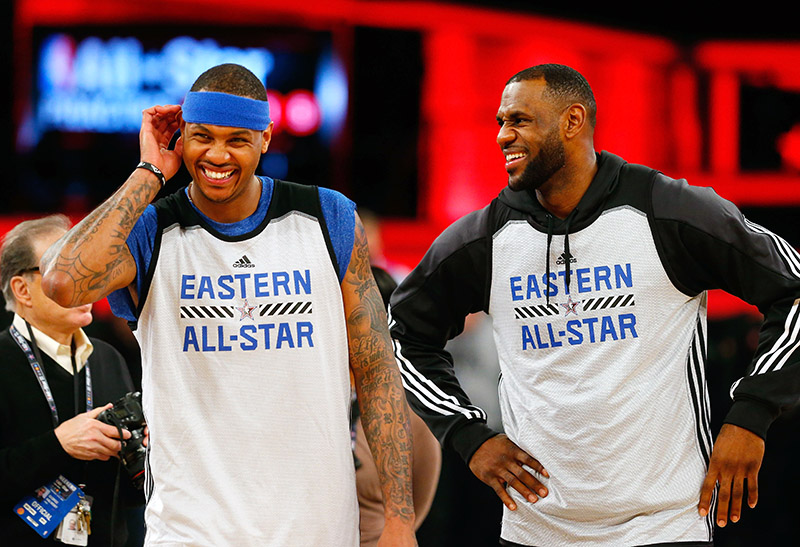 Anthony helped Syracuse win their first ever NCAA championship in 2003. After winning the NCAA title, he declared himself eligible for the 2003 NBA draft and was chosen third overall by the Denver Nuggets – behind LeBron James who was picked No. 1 overall by the Cleveland Cavaliers.
Anthony, who last played for the LA Lakers, ended his NBA career on a low note due to injuries.
The 10-time NBA All Star called his retirement a "bittersweet" moment, but he's looking forward to spending more time with his children, 5-year-old daughter Genesis (by Mia Burks) and son Kiyan, 16, by his ex-wife, Alani "La La" Anthony.
"The time has come for me to say goodbye to the court where I made my name, to the game that gave me purpose and pride," Anthony said on Monday.
"When people ask what I believe my legacy is, it's not my feats on the court that come to mind, nor the awards or praise. Because my story has always been more than basketball."
He captioned the post: "Thank you #STAYME7O."
Carmelo's off court antics ruined his marriage to La La.
'Melo and La La's star-studded wedding in 2010 was filmed by VH1 for a reality series, titled La La's Full Court Wedding.
In 2017, TMZ reported that La La had moved out of the couple's NYC apartment. They reconciled in 2018.

READ ALSO: EXCLUSIVE: Carmelo Anthony On Vacation With Mystery Woman

In 2019, the blogs published photos of Anthony on vacation with a La La look-a-like.
After being in denial, La La filed for divorce in 2021.
In October, La La opened up to PEOPLE about her failed marriage. She said Anthony's trade to New York was the beginning of the end of their marriage.
"I'm from New York so being here is nothing new. When we lived here under all of that, that's when things became complicated. Now that I look back, that was kind of the start of the demise of the marriage."
She continued: "We had some great times. We have a beautiful son, Kiyan, who's amazing. It wasn't all bad. We had great, great times. It ended bad, but we're still friends and we co-parent great…. Life is just about lessons and going through different phases, and that was a phase in my life, a chapter in my life. And now, that chapter's over but it's never really over when you have a kid with somebody."