Update, Nov. 19, 2023 at 7:42 PM:
Angel Reese's Twitter/X followers are dragging her after she urged them not to believe everything they read online.
She tweeted on Sunday afternoon: "please don't believe everything you read." Reese commented two days after LSU women's basketball coach Kim Mulkey confirmed she was suspended from the team.
please don't believe everything you read.

— Angel Reese (@Reese10Angel) November 19, 2023
Reese's Twitter/X followers responded to her tweet by repeating a rumor that her low GPA was to blame for her suspension.
How about you get off social media and focus on your grades

— . (@Dot4PF) November 19, 2023
Having a 1.7 GPA in college with an insane amount of tutors at ur disposal, is honestly impressive.

— CBBsandolover (@sl_man1) November 19, 2023
The real question is are YOU able to read everything you see?

— JaMichael B. Phelps (@Juiceman_Shawty) November 19, 2023
Reese's suspension was first reported by Outkick.com last week. She missed the LSU Tigers' game against Southeastern Louisiana on Friday following the suspension.
Coach Mulkey benched Reese during the second half of LSU's 109-79 win over Kent State on Tuesday, Nov. 14.
Mulkey confirmed to Outkick.com that Reese was not with the team following her suspension on Friday. But she didn't go into details.
Apparently in response to her suspension, Reese said she carries the "weight of the world" on her shoulders in a TikTok video on Saturday.
The "Bayou Barbie" shared photos of 100 roses from her FSU basketball player boyfriend, Cam'Ron Fletcher in her TikTok post.
Fletcher attached a card to Reese that read:
"From Tiago to Barbie. Everyday with you feels LIKE A Sunday morning. Thank you for giving me your golden heart. Just us, 4L!!"
Reese captioned the video:
"They can say whatever they want about you but i know you the realist on my team. Friends for 6 years and now 6 months of dating. thank for you for being there during the light & the dark of my life. You keep me sane & being my peace is what I've always look at you for. Knowing I carry the weight of the world on my shoulders & everyday isn't easy for me, you always ALWAYS make sure i'm good. nobody can ever change my feeling for you. thank you, thank you, thank you. I love you endlessly…"
OutKick's Glenn Guilbeau reported that Reese was benched on Tuesday for an "attitude adjustment."
Speculation ran rampant on social media after Reese's mom, also named Angel Reese, and teammate Flau'jea Johnson's mother, Kia Brooks, snatched each other's wigs on Instagram.
Angel Reese (left) is pictured with her daughter during happier times.
Reese's mom wrote on IG:
"Folks pls do not send me long text msgs with a bunch of grammatical errors it gives me a headache. How do I know you said what you said if I can't understand what you're saying?"
Flau'jea Johnson's mom fired back:
"You definitely know about grammar errors when your daughter got a 2.0 or less GPA… Stop being petty, fake and hateful, and take responsibility for you and your daughter's actions."
If you recall, Reese and Johnson were rumored to be lovers over the summer. They both dismissed the rumors in separate statements to the press.
Reese was heavily criticized for bragging about her lucrative NIL deals. She partied in nightclubs across the country and appeared in a music video with rappers Cardi B and Latto.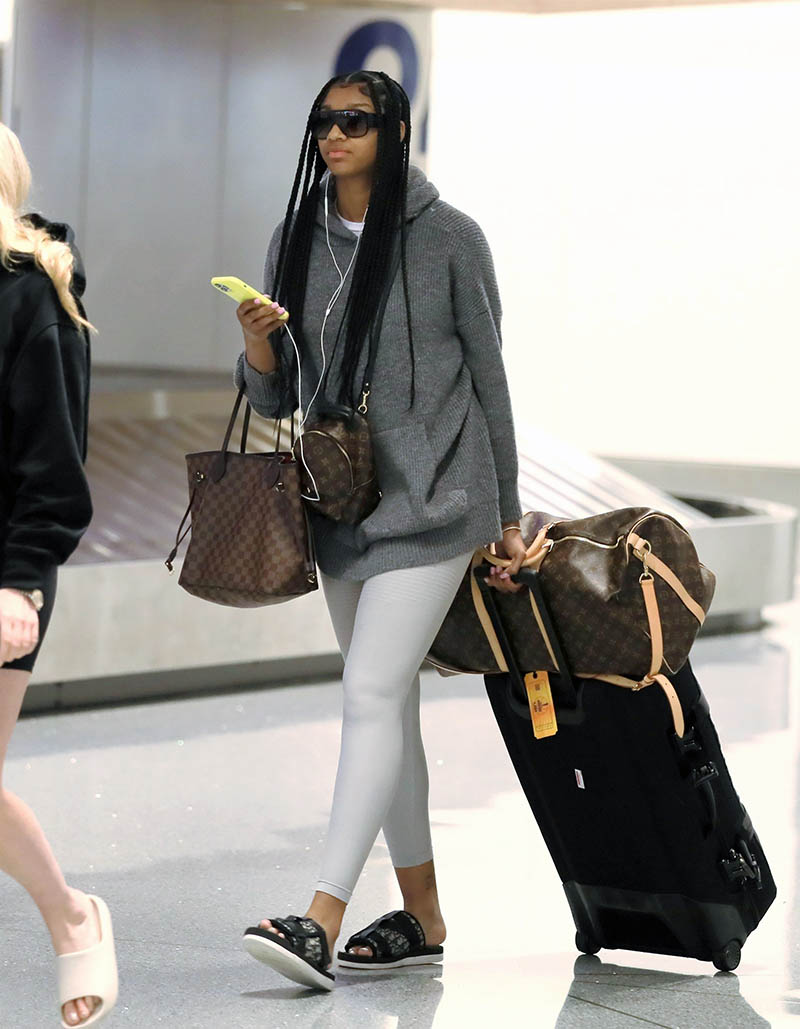 Reese was photographed everywhere except on a basketball practice court over the summer. She raised eyebrows by suggesting she was too famous to attend classes in person at LSU.

READ ALSO: LSU's Angel Reese: 'I'm too famous to attend classes in person'

Earlier this month, coach Mulkey was critical of individual players when LSU was upset, 92-78, by then-No. 20 Colorado in their season opener.
"I'm disappointed and surprised in some individual players that I thought would just be tougher and have a little fight and leadership about them," Mulkey said after the game on Nov. 6.
Mulkey suggested her players were lackadaisical and egotistical because of their lucrative NIL deals.
"You live with poor shooting, you live with a tough night offensively. What I don't live with is just guts and fight and physical play [not being there]," she said.
LSU was expected to repeat this year as defending women's college basketball champions. But now LSU's season is in turmoil and the team might be short a star player.