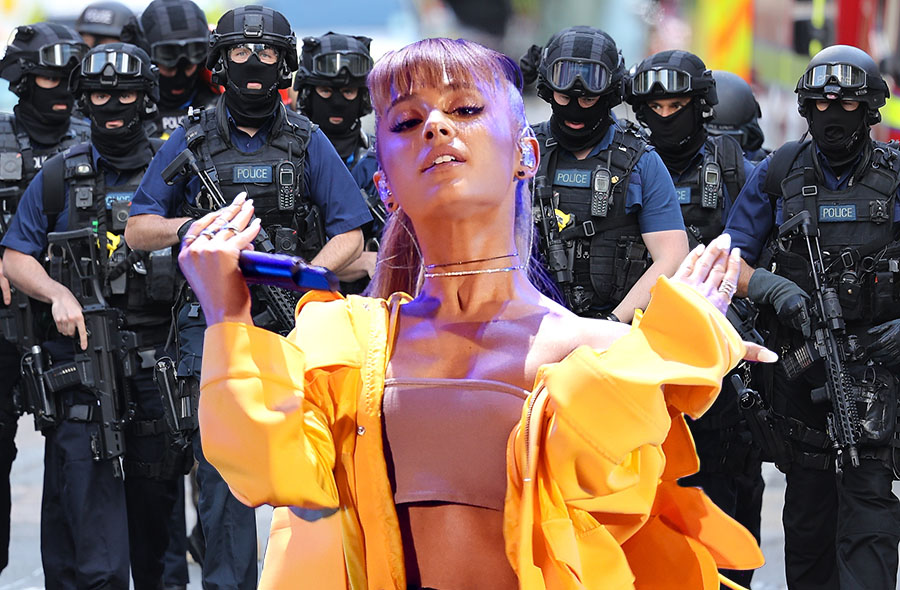 7 people died and at least 45 were injured during a coordinated terror attack in London, England Saturday night. The terror attacks began at 10 p.m. London time (5 p.m. EST) when 3 men in a white van driving in a 'S shape' pattern at 50mph mowed down 20 pedestrians on the London Bridge.
The van continued on about a mile away to the Borough market, where the three jihadis armed with hunting knives exited the van shouting "This is for Allah!"
The jihadis killed 6 people at busy bars and restaurants in the tourist area. Witnesses described seeing victims with their throats slashed. Bar patrons fought back by throwing chairs, beer bottles and pint glasses at the attackers.
One of the jihadis carrying a 12-inch knife stabbed a female bar patron to death. Islamic extremists prefer to attack "soft targets" such as women and girls if they are dressed in skimpy clothing or in public places without being accompanied by a man.
The police response was swift. Heavily armed Counter terrorism officers gunned down the 3 attackers who wore fake suicide vests at the Borough market.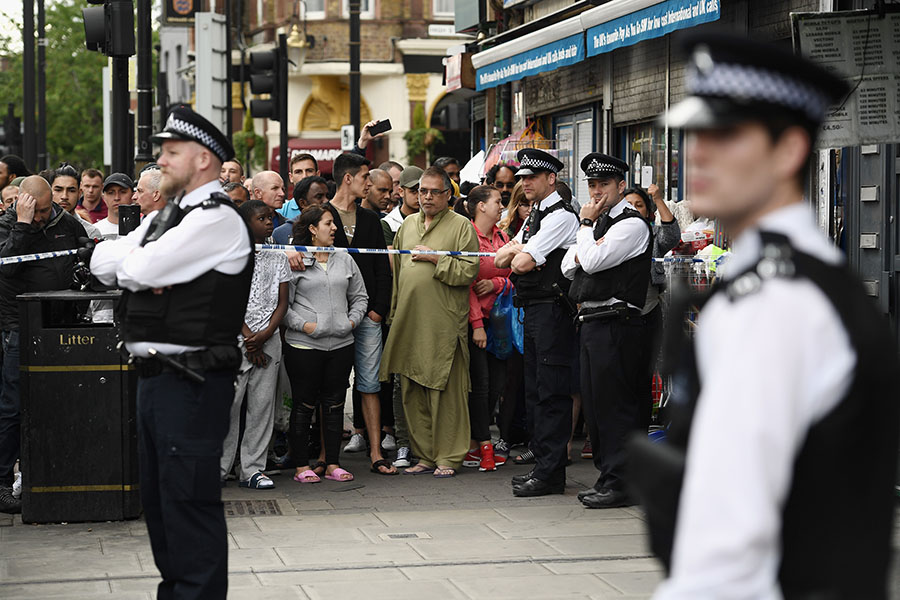 At least 12 arrests were made during overnight raids in a Muslim area of east London. The raids continued into Sunday morning in the Barking area of east London.
The London Bridge remains on lockdown as police investigate the entire bridge as a crime scene.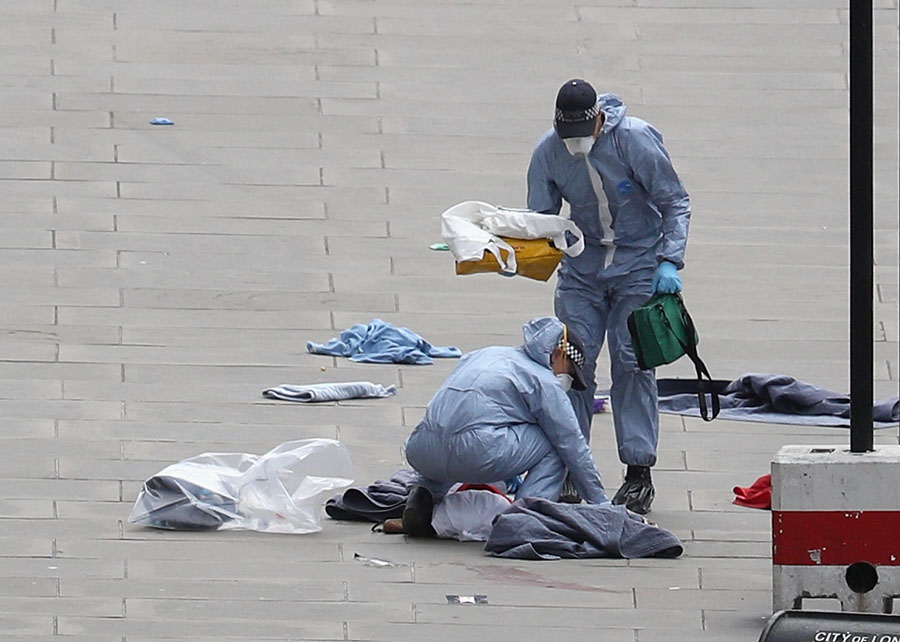 The terror attacks comes just 12 days after 22 young people were killed and 50 wounded during a suicide bombing at an Ariana Grande concert in Manchester, England, north of London.
Grande returned to Manchester on Friday to visit with and console bomb victims who are still hospitalized.
Grande (pictured above), Katy Perry, Miley Cyrus, Justin Bieber, Usher and other American celebrities plan to perform during a benefit concert in Manchester on Sunday to raise money for the victims and their families.
But British citizens criticized the "attention-seeking" stars who plan to go ahead with the concert just hours after another terror attack on British soil.
Hundreds of heavily armed officers from all over the UK are expected to provide protection at the concert.
Daily Mail UK readers complain that whatever money is raised by the Americans will pale in comparison to what it will cost to throw up a "ring of steel" around the 50,000 people expected to attend the concert.
They wondered why the celebrities didn't just pool their resources and donate the money to the victims themselves.
"Whatever money is being donated from the concert is being more than used up, plus taking protection away from other sites, to secure this concert," wrote one Daily Mail reader who questioned the decision to hold the concert so soon after the terror attacks in Manchester and now London.
Another commenter wrote: "I don't know but the last thing I wanna see is ariana and katie in their usual lingerie get up singing for the victims."
"They don't need empty symbolism they need their nation protected. Liberalism, is a mental disease," wrote Dennis D., of New Jersey.
Fox News contributor Nigel Farage warned that the terrorist acts will not cease until the UK is under Sharia law. Then America is next.
Nigel Farage: "Sharia law talking hold in UK. US take note of this and let this be a warning."#LondonAttacks

— Tennessee (@TEN_GOP) June 4, 2017
Every "moderate" Muslim is about three Imam lectures away from running your ass over with a rented truck. Understand that.

— Cultural Combat (@CulturalCombat) June 4, 2017
And folks, stop labeling all Muslim people as terrorists. They get their share of losses everyday. They're victims as well.#londonattacks

— Jeeniya (@jeeniya90) June 4, 2017
If you let in an ideology that seeks death and destruction - you will get death and destruction. It's pretty simple. #LondonAttacks

— Based Monitored ?? (@BasedMonitored) June 4, 2017
Theresa May says the UK hasn't done enough to prevent terrorism. That was literally her job as Home Secretary. #LondonAttacks

— Ioan Marc Jones (@ioanmarcjones) June 4, 2017
Its time to end political correctness which is tying the hands of our officials and security services.. PC Kills #Bluehand #LondonAttacks

— James Bond ? (@bluehand007) June 4, 2017
4 TOLERANCE's sake we welcome INTOLERANCE. Ppl who respect neither our culture or our individual rights #TravelBan #LondonAttacks pic.twitter.com/NNUatomEVY

— ?Warrior Ashley? (@AshleyWarrior) June 4, 2017
Don't believe these fake stories about the #LondonAttacks pic.twitter.com/Jh6X43GJSU

— Al Jazeera English (@AJEnglish) June 4, 2017
Our police force is the best. #LondonAttacks pic.twitter.com/mSKTszXFxS

— Cal (@Panayisalad) June 4, 2017
Photos of Ariana Grande by Dan Kitwood/Getty Images
Photos of Aftermath of London terror attacks by Getty Images