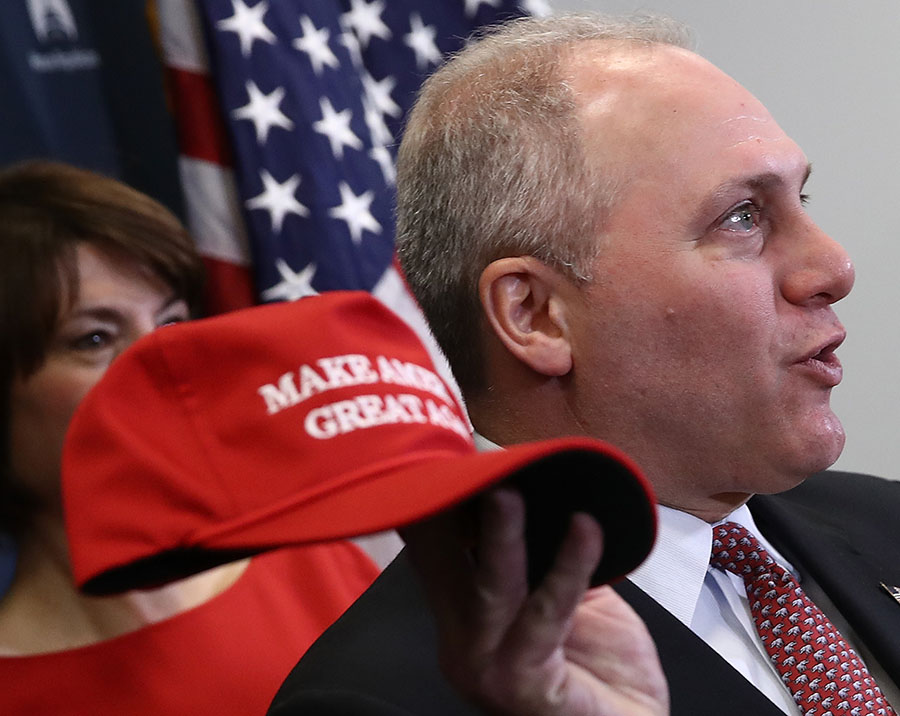 Update: According to President Trump, the shooter, James T. Hodgkinson, has died of his injuries.
Four people, including the GOP House Leader, were shot when a gunman opened fire at a group of lawmakers and aides practicing for the annual Congressional baseball game. Rep. Steve Scalise (R-LA), pictured above, was shot in the hip and is listed in stable condition before undergoing surgery in Washington, DC.
Also shoot were a congressional aide and two Capitol Hill police officers who were assigned to protect Scalise.
The shooting happened Wednesday morning just after 7 a.m. at a sports facility in Alexandria, Virginia.
Police described the shooting as a "deliberate act". A witness said the gunman walked up and asked "Are those Republicans or Democrats out there?
The gunman, described as a white male in his 40s, fired as many as 50-60 rifle rounds before Capitol police shot and wounded him. A witness said the gunman and Capitol police exchanged gunfire for 15 minutes. Someone in the dugout was heard yelling "Just shoot him!"
Another witness said the gunman was armed "with an AK-47-type assault rifle" and moved in a "methodical way".
The gunman is currently under heavy police guard at a Washington, DC hospital.
The goal of the annual Congressional baseball game is to raise money for charity. The Republicans. Members of the GOP and the Democratic parties practice at separate baseball fields three days a week.
The shooting occurred 6 years after Arizona Rep. Gabby Giffords was shot in the head at a political event at a grocery store.
The gunman in that incident, Jared Lee Loughner, pleaded guilty and was sentenced to life in prison without the possibility of parole in 2012.
Photo by Win McNamee/Getty Images