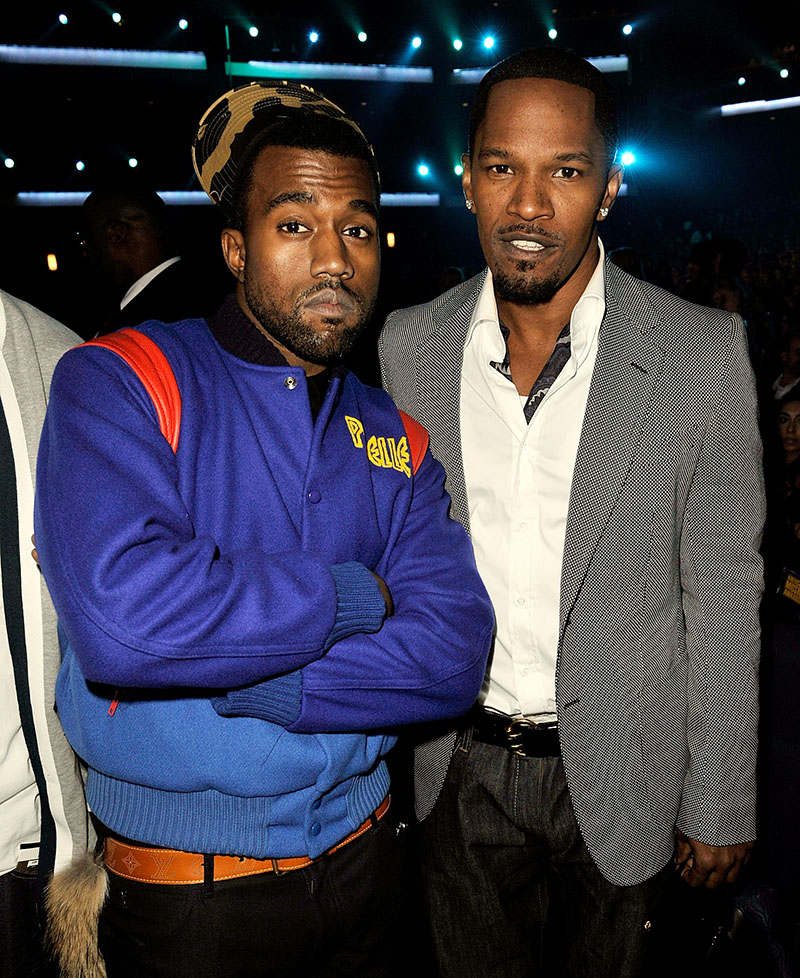 Jamie Foxx says he "begrudgingly" agreed to sing the chorus on the Kanye West-produced #1 hit "Slow Jamz" because he didn't think Kanye would ever be famous.
During an appearance on The Late Show with James Corden on Thursday, the 49-year-old actor/comedian/singer recalled the first time he met Kanye at a party in 2003.
The talented music producer was still recovering from a car crash that left him with a fractured jaw.
"I had this party – it was Puff, it was Jay Z, it was all these people and then this kid walks in and his jaw was a little swollen and he had a backpack on. I said, 'Who's that?' They said, 'That's Kanye, that's the new dude.' He started rapping, blew my head off he was so incredible."
Jamie said Kanye approached him about providing vocals for a track he was producing for rapper Twista. At the time Jamie's music catalogue was limited to his 1994 album, Peep This Out.
The Dreamgirls actor invited the then-aspiring music producer into his recording studio where he tried to impress Kanye with his vocal prowess.
Kanye asked Jamie to sing the famous chorus line of "Slow Jamz", 'She said she want some Marvin Gaye, some Luther Vandross,' — but Kanye wasn't impressed with Jamie's R&B styling. He interrupted Jamie and told him to just "sing the song regular".
Jamie's ego was slightly bruised by Kanye's rejection.
"In my mind I'm thinking this young fella don't know about R&B, so I sing it begrudgingly thinking he ain't gonna make it, this ain't gonna take off," Jamie said. "I left and went and did a bad movie for six weeks, I come back and my boy (music exec) Breyon Prescott said, 'Yo, remember that song you said was whack? It's number one in the country.'"
"Slow Jamz" received a Grammy nomination for Best Rap/Sung Collaboration.
Photo by Kevin Winter/Getty Images