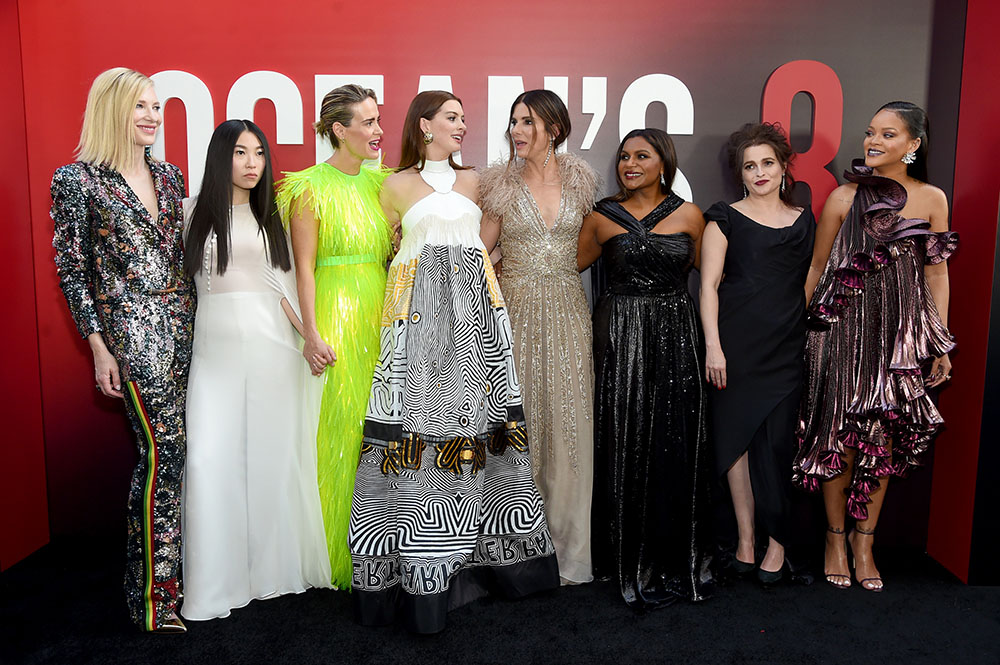 The reviews are rolling in for Ocean's 8, the all-female spinoff of Steven Soderbergh's Ocean's franchise. Sandra Bullock leads a crew of female criminals determined to rip off $150 million in diamonds during fashion's biggest night, the Met Gala in NYC.
Bullock, 53, plays Debbie Ocean, sister of George Clooney's character Danny Ocean, the original mastermind from Ocean's Eleven.
Ocean's 8 also stars Cate Blanchett, Mindy Kaling, Sarah Paulson, Awkwafina, Helena Bonham Carter, Anne Hathaway and Rihanna, who plays a master hacker wearing a nest of fake dreadlocks.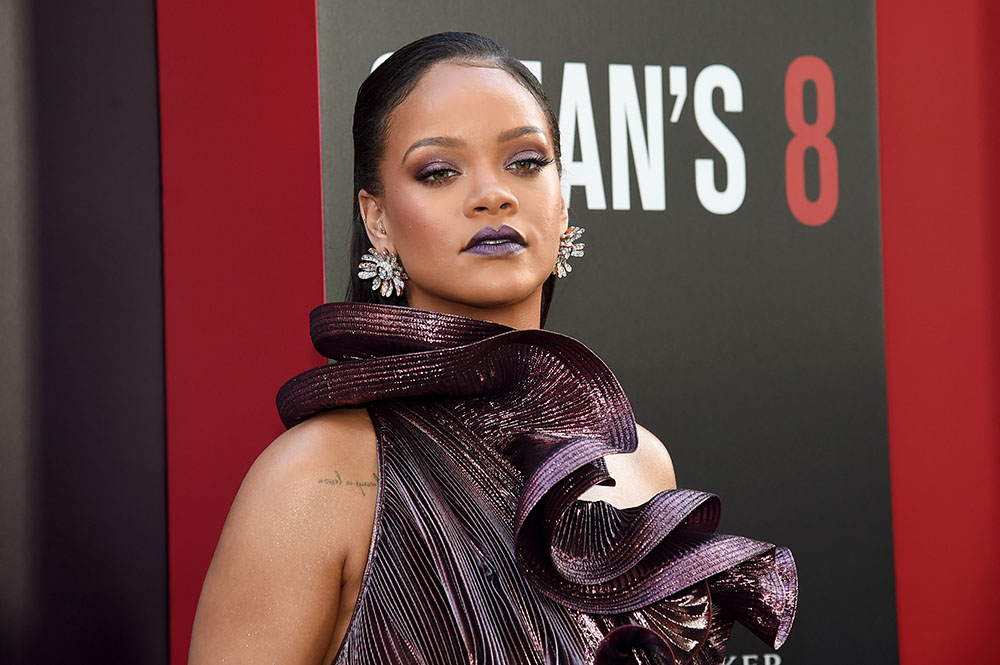 Ocean's 8 suffers from the same glaring plot vehicle that torpedoed the all-female Ghostbusters reboot.
All-female casts are yawn-inducing because women try too hard to outdo men at what they do best: being men.
"This is a self-satisfied exercise that's only occasionally as much fun as it thinks it is," writes The Hollywood Reporter's David Rooney, who was not impressed by director Gary Ross' effort to recast "female clones" Bullock and Blanchett in the roles played to perfection by original franchise stars Clooney and Brad Pitt.
"Rather than reimagining them as newly minted characters, Ross [pictured right with Hathaway, Awkwafina and Rihanna] locks himself into a limiting corner by treating Debbie and Lou strictly as female clones of Clooney's Danny and Brad Pitt's Rusty Ryan in the earlier films," writes Rooney.
"Even when the stakes are at their highest, the leads' delivery is cooler-than-thou, tongue-in-cheek deadpan, accompanied by smug half-smiles, which frankly, gets a bit one-note tiresome and self-conscious.
"The whole point of rebuilding the glamorous crime caper around women is to make them different. But although they swap tuxedos for couture gowns and heels -- or in biker chick Lou's case, slinky pantsuits and a razor-cut shag — the dynamic lacks freshness."
Put another way, the whole point of Hollywood movies is escapism. Moviegoers flock to theaters for an escape from the norm and to indulge in a fantasy that they can relate to.
Casting over-the-hill actresses as substitutes for hunky Brad Pitt and swarthy George Clooney is a fantasy that most moviegoers can't relate to.
Ocean's 8 is "like a Sex and the City movie with thievery. And no sex," Rooney writes.
Ocean's 8 opens in theaters on June 8.
Photos by Jamie McCarthy/Getty Images, Mike Coppola/Getty Images