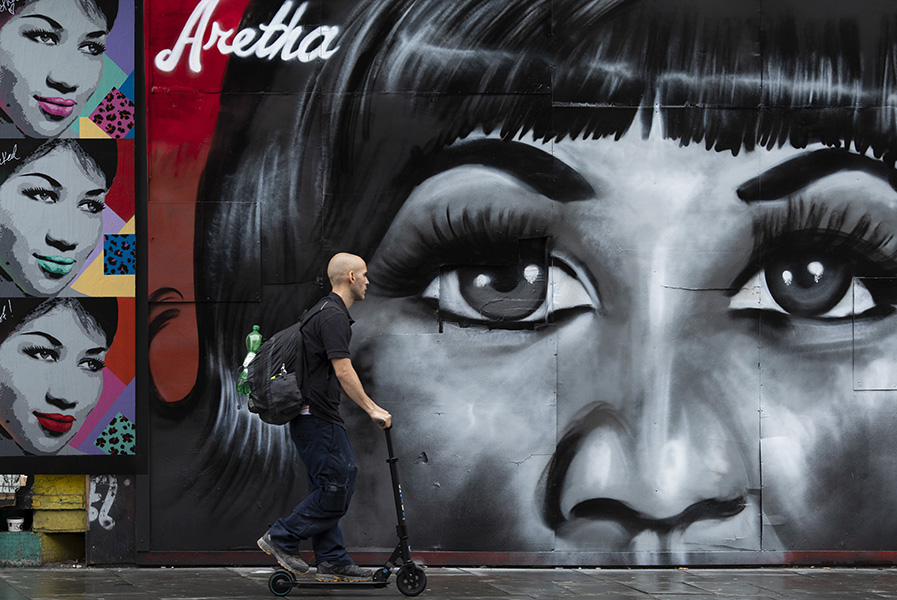 Bold names in the R&B music world have been booked to perform at the queen of soul Aretha Franklin's home going service on August 31. Franklin passed away on August 16 after a long battle with pancreatic cancer. She was 76.
According to CNN, Stevie Wonder, Jennifer Hudson, Yolanda Adams and Jennifer Holliday will be among the greats expected to perform at Franklin's funeral for close friends and family on August 31 at 10 a.m. ET at Greater Grace Temple in Detroit.
The public is invited to attend public viewings on August 28-29 at the Charles H. Wright Museum of African American History in Detroit.
Stevie Wonder visited with Franklin before she died in her riverfront Detroit apartment.
"She did incredible music, incredible singer. She touched every genre. Every singer was influenced in some way by the way she sang. They will forever be influenced by her because of her voice, her emotion, her sincerity is unforgettable," he said on CBS This Morning.
In the photo above, street artist Jules Muck paid tribute to the late great singer with a gigantic mural, in collaboration with Global Street Art, in the East London Shoreditch area.
Photo by Dan Kitwood/Getty Images