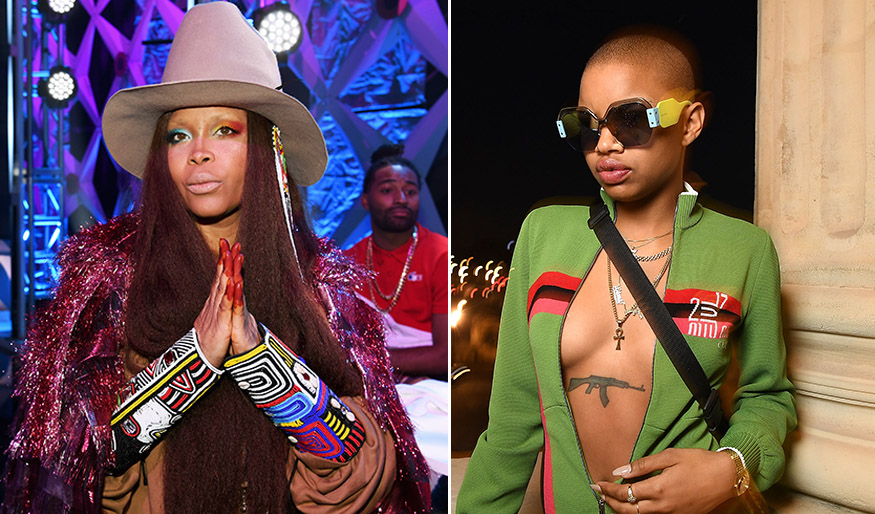 Erykah Badu plans to deliver model Slick Wood's baby this fall. The model and stylist, who has over 500,000 Instagram.com followers, is expecting a boy with model Adonis Bosso.
In addition to being a part-time singer, Badu, is also a doula — an unlicensed birthing coach — who claims to have delivered 40 babies. "She's a mommy role model. A mother I look up to, who kills her sh-t and is a boss as- bitch," Woods said in ELLE magazine's September issue.
Woods, who is known for her gap-tooth smile and bald head, is the face of Rihanna's Fenty X PUMA. She also modeled for Kanye West's Yeezy lookbook.
The 21-year-old announced her pregnancy on Instagram.com. She said she asked Badu to help deliver her baby. Badu offers her doula services to friends and acquaintances through word of mouth.
"It just kind of happens," Badu told Pitchfork magazine. "I don't plan how many people I work with. I don't charge anything. It's for my own learning, and I just enjoy being the welcoming committee."
Badu said she honed her doula skills when a friend went into labor while traveling in Europe.
"I became a doula by default. I had [son] Seven naturally, at home, and a couple of years later I was traveling through Europe, and one of my best friends, Afya, who is the wife of stic.man from dead prez, went into labor," Badu explained to Pitchfork.
Only licensed midwives can deliver babies in hospitals and in the home. The Grammy-winning singer, who is a mother of three, is not a licensed midwife, but she can help midwives by offering encouragement to the expectant mom during the childbirthing process.
Photos by Paras Griffin/Getty Images, Pascal Le Segretain/Getty Images, Jamie McCarthy/Getty Images