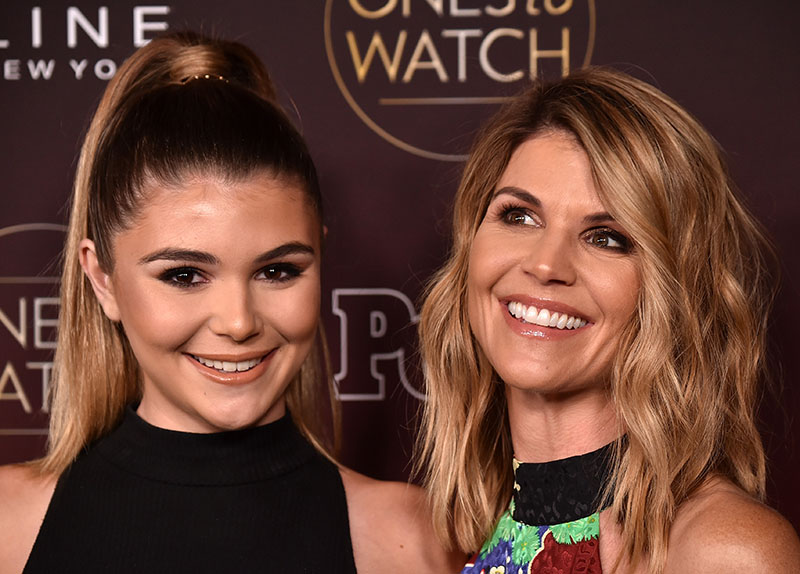 Lori Loughlin's daughter Olivia Jade Giannulli is in danger of being expelled from the University of Southern California after her parents were accused of using their wealth and connections to get her into the top school.
Loughlin and her fashion designer husband Mossimo Giannulli were arrested this week and charged with mail fraud and bribery in connection with a college admissions bribery scandal that is said to be the largest in U.S. history.
46 people, including actress Felicity Huffman, CEOs, coaches at elite schools, and 33 rich parents were charged with mail fraud this week and released on bonds ranging from $250,000 to $1 million each.
Loughlin, 54, was taken into custody on Wednesday and released on $1 million bond later that day. Giannulli also posted $1 million bail and was released on bond Tuesday.
Loughlin and Giannulli also have a 20-year-old daughter Isabella Rose Giannulli, pictured right with her sister Olivia, left, and mother Lori, center.
Loughlin and Giannulli are accused of paying $500,000 to get their two daughters into USC by portraying them as members of the rowing crew – even though neither girls participate in rowing.
None of the children of the wealthy defendants were charged, but schools are considering expelling the students who otherwise would not have qualified academically for admission.
A rep for USC tells The Blast anyone currently applying to the school "who are connected to the scheme alleged by the government will be denied admission to USC."
The school says that they will "conduct a case-by-case review" for current students and graduates who may be connected to the scheme and they "will make informed, appropriate decisions once those reviews have been completed."
Loughlin's daughter, Olivia Jade, 19, angered some of her 1.4 million Instagram followers when she said she wasn't interested in a college education. She said she went to USC only to attend football games and to party.
"I don't really care about school, as you guys know," she said in a video on her popular YouTube channel.
In a recent interview, Olivia said she went to USC "mostly because my parents really wanted me to go."
Following the backlash, Olivia later said she liked going to USC.
"Mostly my parents wanted me to go because both of them didn't go to college. I'm so happy they made me go. That sounds so terrible, they didn't make me," she said.
Olivia has since deleted and closed the comments on many of her Instagram posts.
Photos by Frazer Harrison/Getty Images, Frazer Harrison/Getty Images, Brian To/WENN.com