The rapper known as Nipsey Hussle was shot dead at 3:20 p.m. local time in Los Angeles on Sunday, the LAPD confirmed. The 33-year-old hip-hop entrepreneur was one of three men shot in a gang-related incident outside his clothing store in the Hyde Park neighborhood of South Los Angeles.
Nipsey was pronounced dead on arrival at a Los Angeles hospital just before 4 p.m. He was 33. The other two victims are in stable condition, police said.
Witnesses say a lone gunman pumped six bullets into the rapper as he stood with two bodyguards outside his Marathon clothing store in a strip mall on Slauson Avenue.
There are reports that Nipsey tried to run from his killer who shot him in the back of the head at close range.
The gunman fled in a waiting getaway vehicle. He is described as a Black male in his 20s. There was no description of the getaway driver, although witnesses say the driver was a female.
"At this point, we're not even sure as to whether he walked up, rode a bicycle or drove up in a car, LA Police Lt. Chris Ramirez said in a news briefing on Sunday.
Moments after the shooting, fans shared graphic videos of the "Last Time that I Checc'd" rapper on the ground amid the chaos. The back of his white du-rag turned crimson red as Black and Hispanic medics worked frantically to save his life.
Fans also shared what appeared to be the last photo taken of Nipsey in the final moments before he was gunned down. He is wearing a white du-rag with a white t-shirt, red shorts and a pair of crisp white sneakers. The rapper who rarely smiled in photos grinned as he posed with a young fan.
Police say his murder may have been part of a gang initiation. The shooter is probably associated with a gang, a police source told the LA Times.
Nipsey, who was born Ermias Davidson Asghedom, was a devout member of the Rolling 60s Crips street gang, according to his Facebook page.
The rapper derived his name from the late actor/comedian Nipsey Russell, who is best known for his role as the Tin Man in the 1978 musical The Wiz.
He told CBS LA that he was raised by his mother and grandmother, Black women who pressured him and his brother to read books while growing up in gang-infested Los Angeles in the 1990s.
"My mom is American, so I was raised in her household in my formative years," he told CBS LA. "Outside was a little more chaotic."
Despite having a father in his life, Nipsey joined the Rolling 60s Crips gang as a teenager.
He was close to his father, who is from Eritrea in East Africa. In 2018, he and his brother traveled with their father to Eritrea for the second time in 14 years. Nipsey said the trip changed his life.
Just in a day and half, @NipseyHussle visited many places in #Asmara.
Me: 'Aren't you tired?'
N: 'NO, I am VERY excited!'#Eritrea pic.twitter.com/alydCWcvuO

— Hadnet Keleta (@hadnetkeleta) April 20, 2018
His father often helped out in his clothing store. It isn't clear if his dad was at the scene when his son was killed.
Nipsey's fans say he was more than just a gang banger with a record deal. Nipsey tried to make a difference in a neighborhood that saw more than its fair share of bloodshed and gang violence.
He owned the Marathon Clothing Company "smart store", where shoppers could use an app to peruse the store stock. He also owned The Marathon Agency, SC Commercial Ventures and Proud 2 Pay.
In 2010, he founded All Money In No Money Out Records, which debuted his mixtape "The Marathon".
In 2013, he released his fifth mixtape "Crenshaw", which sold more than 1,000 cassettes at $100 apiece. The unheard of price per cassette made headlines in the mainstream press.
His last - and most critically acclaimed - album Victory Lap was nominated for a Grammy at the 2019 Grammy Awards. He lost to culture vulture rapper Cardi B, whose career was canceled after she admitted drugging and robbing Black men.
Nipsey performed sold out concerts around the country. His last concert in Atlanta was 10 months ago. A B&W photo of the bearded rapper on a concert listing service bears the words "NO LONGER TOURING" in bold white letters across his chest.
The rapper dabbled in technology and he envisioned a South Central Los Angeles where young Black people owned the corners they stood on.
He inspired the youth to became property owners in an industry where bankers tend to reject Black applicants - even those with good credit.
When the LAPD needed an ally to help stem the rising tide of gun violence in the southern district, they turned to Nipsey.
L.A. Police Commissioner Steve Soboroff tweeted that he and LAPD Chief Michael Moore had planned to meet with Nipsey on Monday to discuss "ways he could help stop gang violence and help us help kids."
"I'm so very sad," Soboroff tweeted.
As news spread of Nipsey's execution, it didn't take long for the conspiracy theories to kick into high gear.
Many accused pharmaceutical companies of hiring a hit man to kill the rapper to stop his documentary about Alfredo Bowman, aka Dr. Sebi.
The controversial "holistic healer" was arrested and accused of practicing medicine without a license in the 1980s. Dr. Sebi claimed his miracle potions and tonics could cure cancer and AIDS, but his claims were debunked by the medical community.
Nipsey claimed Dr. Sebi won a court case in NY by proving he could cure AIDS. in reality, two juries found that his methods of "healing" with roots and herbs didn't qualify as "practicing medicine without a license." He never provided medical or scientific proof that his potions and strict vegan diet could cure AIDS.
On Sunday, fellow rappers, athletes and associates joined Nipsey's fans in expressing their grief in social media posts. Rapper J. Cole described Nipsey as "a legend".
"I respect and admire your career path and what you did for the neighborhood. My heart broke today when I saw the news. I'm praying for your loved ones," he tweeted.
Nipsey was remembered during a candlelight vigil in Los Angeles on Sunday night.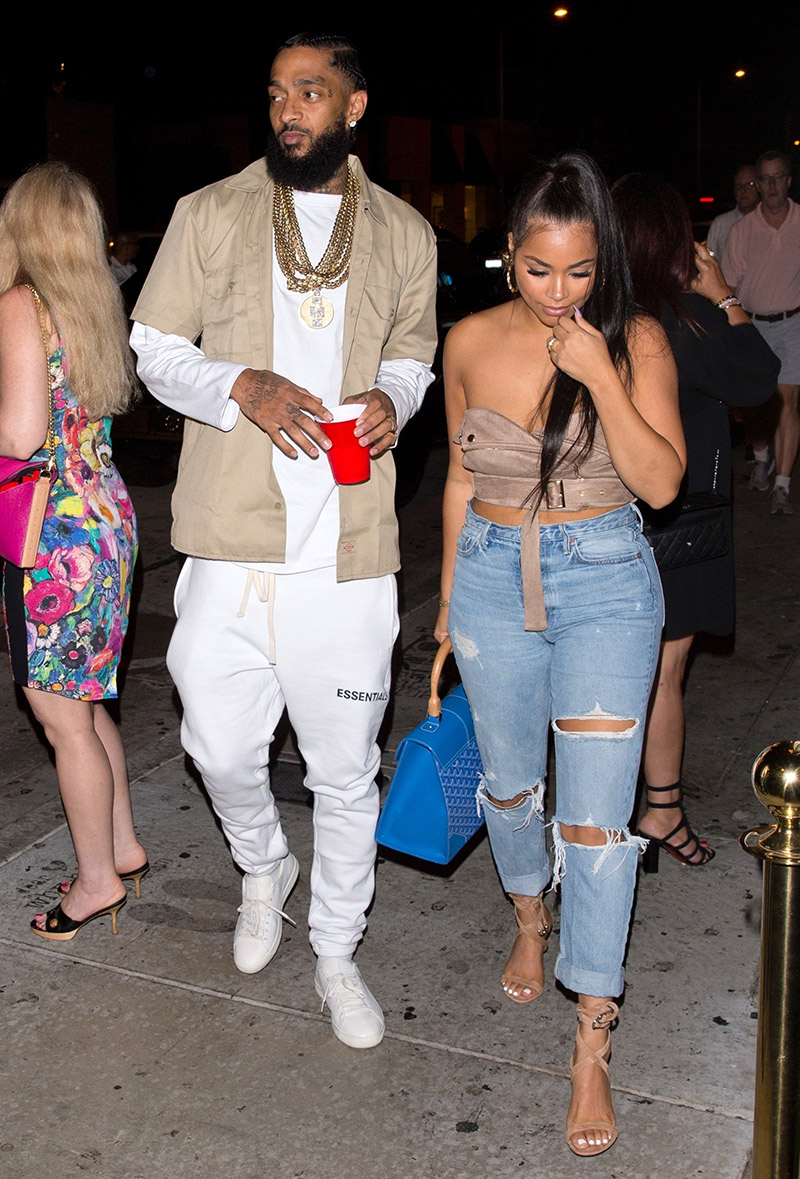 Nipsey leaves behind a 3-year-old son, Kross, by his longtime girlfriend, actress Lauren London (pictured with him in 2018). He also has a daughter, Emani, from a previous relationship with a woman who calls herself Tanisha Asghedom.
Unwilling to let go, Tanisha frequently taunted Lauren on social media.
In 2014, she tweeted Lauren, "he told me he loves me today weekday about you lol now you can block me."
In 2017, after Nipsey and Lauren briefly separated, a fan asked Tanisha if she and Nipsey were getting back together.
"We never broke up lol," she responded.
Both women are expected to attend Nipsey's star-studded funeral in Los Angeles.

Photos by David Crotty/Patrick McMullan via Getty Images, BACKGRID