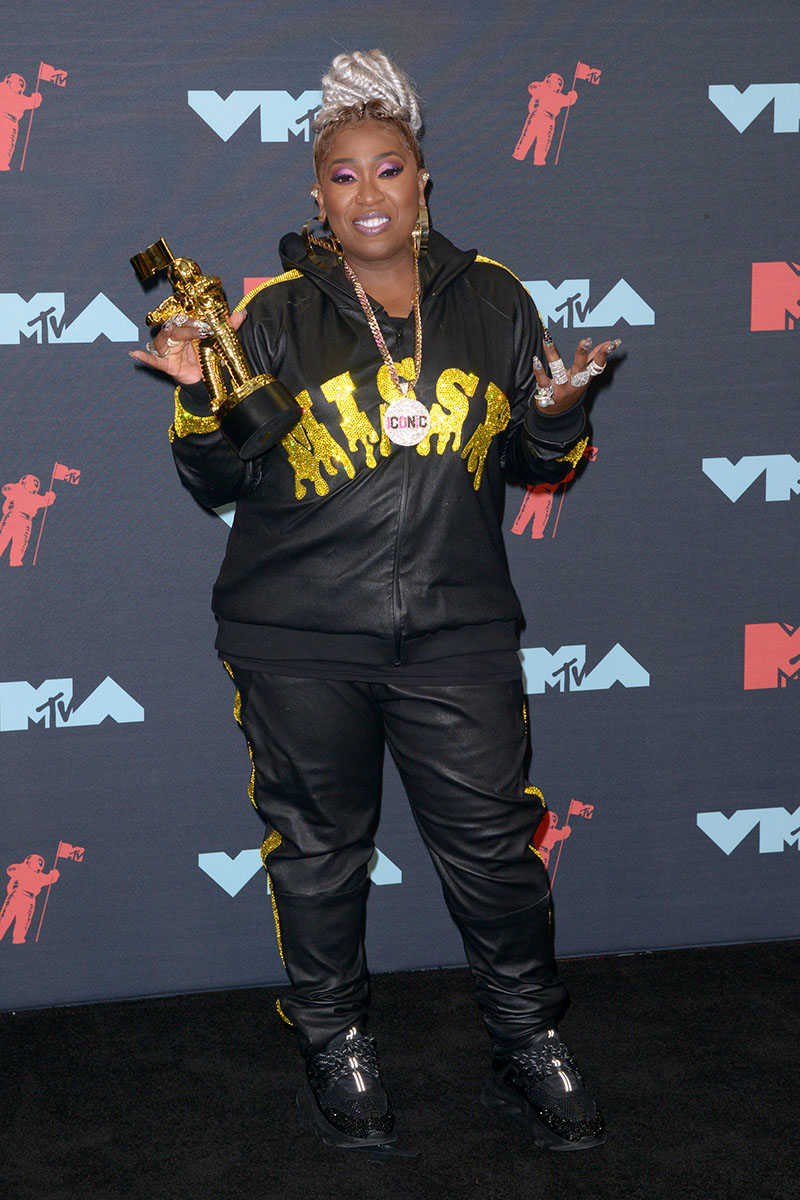 Missy Elliott promised not to cry when she accepted the Michael Jackson Video Vanguard Award for lifetime achievement during the 2019 MTV Video Music Awards on Monday in New York City. Missy, 48, also performed at the awards show.
Missy Elliott received an exclusive bottle of L'Essence de Courvoisier® – an extremely old and rare eaux de vie, dating from the last two centuries ($3,000 per bottle) during her MTV Video Music Awards after party on Monday in New York City.
Before accepting her award, Missy entertained the audience with a spectacular five minute extravanganza, which ended with rapper Cardi B presenting Missy with the Michael Jackson Video Vanguard Award. Cardi called Missy's performance "fire".
The "Bodak Yellow" star, pictured right with Queen Latifah, left, and Missy at the afterparty, said, "I'm so excited to be here celebrating the living legend. Her album was the first one I ever bought and I finally got to meet her at a Grammys party right after "Bodak Yellow" came out. Nobody deserves to be in the Video Vanguard more than Missy. She changed the music video art form completely with her style, humor and unforgettable creativity… Everybody has copied from Missy Elliott – even me! I don't care… So what."
There were also video tributes to Missy from Timbaland, Justin Timberlake, and Lil Kim, while newcomer Lizzo and part-time singer Ciara fought back tears as they explained how much Missy meant to them.
Accepting her award, the "Work It" rapper said, "I have worked diligently for over two decades and I never thought I would be standing up here receiving this award. It means so much to me."
She also name dropped Janet Jackson, thanking her for "being such a great friend", and rapper Busta Rhymes, calling him "an inspiration to me", as well as singers Peter Gabriel and Madonna. Missy ended her acceptance speech with a dedication to her late friend Aaliyah, who would've turned 40 in January, stating, "I love you. We miss you!"