Cardi B's alleged attack on two sisters who were bartenders at Angels Strip Club in Queens, New York in 2018 was orchestrated by her bestie Star Brim, feds say.
On Tuesday, federal prosecutors charged Brim with racketeering and illegal gang activities for allegedly heading a notorious NY street gang.
Feds reportedly gave Brim, who is 9 months pregnant, one month to turn herself in after giving birth. The baby is due this month (Feb).
The first-time mom proudly posed with her baby daddy, an alleged Crips gang member, at her baby shower last month.
Brim captioned an Instagram image: "THE PARENTS… HAVEN'T PARTIED FOR 8 MONTHS HAD TO TURN UP".

Also attending the baby shower was her bestie Cardi B, actress LaLa Anthony, and rapper Pop Smoke, who was killed in a home invasion early Wednesday in California.
According to the New York Post's gossip column Page Six, the rapper's best friend ordered the 5-9 Brims gang members to target two sisters and deliver a savage beatdown without killing them.
After a gang member sent her video of the first assault on the sisters, Brim, whose real name is Yonette Respass, didn't think the first assault was "vicious" enough, court documents claim. So she ordered gang members to attack the women again.
Prosecutors unsealed federal indictments against the "Bodak Yellow" rapper's alleged "muscle" Jeffrey Bush, 35, and her close pal Brim, 28, on racketeering conspiracy charges for their alleged involvement with the 5-9 Brims, a chapter of the notorious Bloods gang.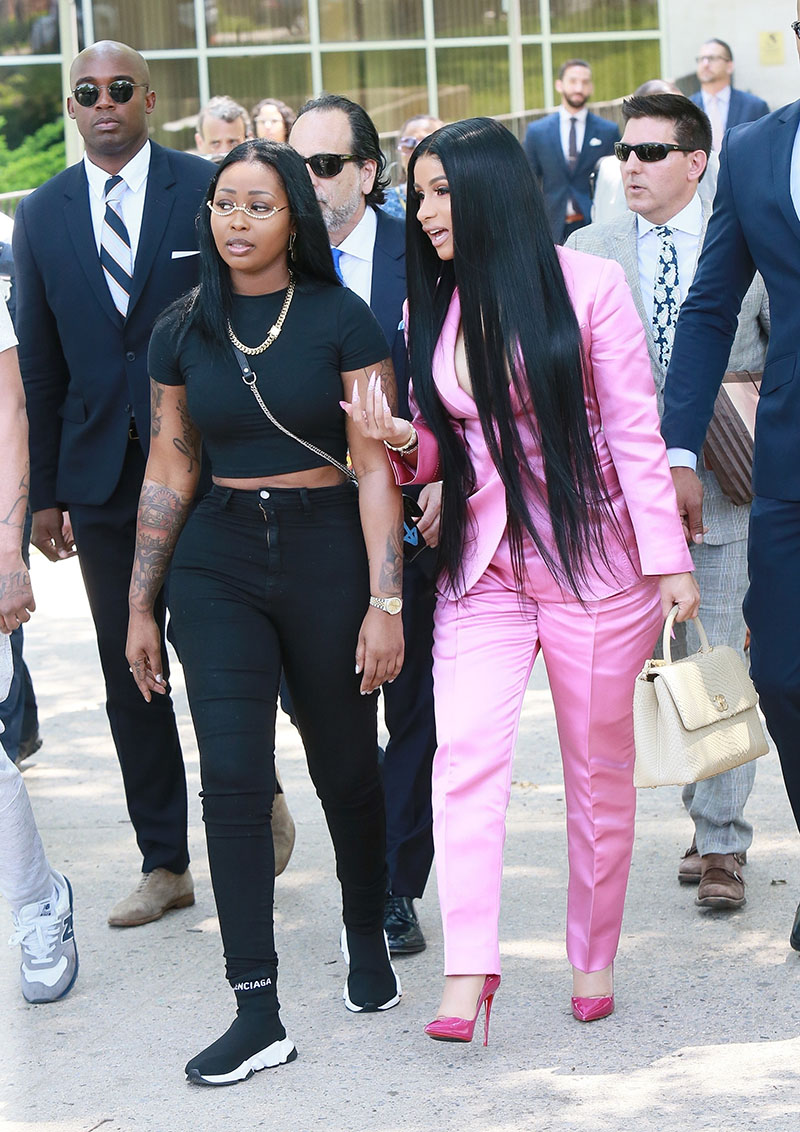 Brim, who is allegedly the gangs' 'godmother' or highest-ranking female member, apparently ordered a beatdown on the sisters for showing disrespect to Cardi, prosecutors allege.
One of the sisters was accused of sleeping with Cardi's promiscuous husband, rapper Offset of Migos. Brim (left) and Cardi are pictured at a Queens, NY courthouse, where Cardi faces trial on assault charges.
"I want hands put on them. I don't even want no talking," Brim ordered the gang, according to court papers.
Bush and three other female gang members then arrived at the Angels strip club on August 15, where they grabbed one of the bartenders by the hair, dragged her across the bar and punched her in the head.
Bush recorded the entire incident on his cell phone and sent the footage to Brim, who was doing time in prison for assault.
"Dissatisfied with the first attack, defendant Respass continued communicating with other enterprise members about the assault, and discussed whether the assault was vicious enough or if 5-9 Brims needed to attack the victim again," a detention memo alleges.

Bush and Cardi B, real name Belcalis Almanzar, still have assault charges pending against them in Queens Supreme Court for the second incident. Cardi, who was present but did not participate in the assaults, has pleaded not guilty on the assault charges.