Former Major League Baseball star Carl Crawford is speaking out about his bitter contract dispute with rapper Megan Thee Stallion.
In an exclusive interview with Billboard magazine, Crawford said he hasn't spoken with his artist since August, and she owes him $2 million for his cut of her touring and merchandise proceeds.
Megan took to her Instagram stories on Sunday to tearfully vent about the unfair 360 contract she signed with Crawford's 1501 Certified Entertainment label.
"Nothing is true that she said. Me being greedy and taking money from her, that's crazy," Crawford tells Billboard. "I never tried to take nothing from her. The only thing we ever did was give, give, give.
"She's getting $100,000 a show and she don't want to pay up. That's what the issue was about. She signed with Roc Nation in August and decided she didn't wanna pay me no more."
The up-and-coming rapper scored a viral hit "Hot Girl Summer" last year when she teamed up with Nicki Minaj and Ty Dolla $ign.
But despite the success of her record, she claimed that her label wouldn't allow her to drop any new music after she asked to renegotiate her contract for more money.
Megan won a legal victory in court on Monday when a Texas judge granted a restraining order against 1501 and its CEO, Crawford, preventing him from blocking the new music she plans to drop on Friday.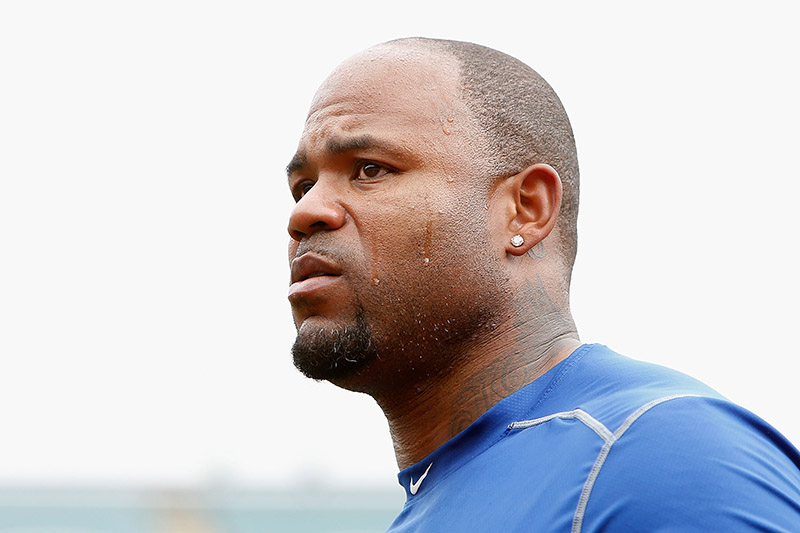 The former Los Angeles Dodgers outfielder confessed he doesn't know the ins and outs of a recording contract. He trusted his business associate, T. Farris, and Megan's late mother, Holly Thomas, to write the contract for Megan.
"You mean to tell me, you, your mama and your lawyer didn't read over that stuff every time? Stop lying," he said.
"Her mom did the contract. I'm new to this business. I let this guy T. Farris run my whole business, because I knew absolutely nothing about it. Zero.
Crawford accused Megan of lying about her age (a common tactic in the music business). He said she was 23 when she signed with his label, which would make her 28 now, not 25 as she claims.
"You wasn't 20, you were 23 years old. You was a grown up. You're just a liar," Crawford said.
Crawford disputed Megan's claim that she only received $10,000 up front when she signed her contract. Or that she only received $15,000 for a billion music streams.
He said Megan signed a second deal with 300 Entertainment and he received a check for $200,000, out of which he paid Megan $50,000.
"How she been paid $15,000? As soon as we signed to 300 [Entertainment], I wrote her a check for $50,000, and it's signed with her name on the check. We can show you the proof… I got all my receipts."
He said Megan and Farris signed a management deal with Jay-Z and Roc Nation, then sent goons to his office in Houston, Texas to intimidate him.
Crawford said he gave Megan a 60/40 deal that guarantees her 40% of her royalties. "What contract gives you parts of their masters and 40% royalties and that kind of stuff? Ask Jay-Z to pull one of his artists' first contracts, and let's compare it to what Megan got… I guarantee they won't ever show you that.
"They're holding the money, and they haven't paid me since August. She done over 15 shows. Y'all do the math. She gets $100,000 a show. She owe me, and I haven't recouped almost $2 million that we spent on her, building her up so that Roc Nation would wanna come."
He said Megan, Jay-Z and Roc Nation are taking food out of his children's mouths.
"Where was Roc Nation at when we was grinding and riding around on them backstreets? Roc Nation's nowhere to be found. Soon as we spent our money, blow it up, now all of a sudden, these strangers and people you just met — they introduce you to Beyonce and now we the devil?
Crawford, 38, was once engaged to reality TV personality Evelyn Lozada, who gave birth to his son, Carl Leo Crawford, Jr, 6.
After Crawford was cut by the Dodgers in June 2016, he reportedly went into playboy mode, flying women out to his West Coast home and cheating shamelessly in front of the elder Lozada, 44.
The couple called off their engagement in August 2017 after dating for 4 years.