R. Kelly allegedly sexually abused a 17-year-old boy after meeting him at a Chicago-area McDonald's in 2006, a new court filing alleges.
Federal prosecutors in New York alleged new accusations against the disgraced singer, including sexual assault and bribery, going back 30 years.
According to court docs, Kelly, 54, sexually abused the teen after asking him "what he was willing to do to succeed in the music business."
The teen allegedly introduced Kelly to a male friend, aged 16 or 17.
Several years later, when the male was 19 or 20, the star apparently started a sexual relationship with that person, referred to as John Doe #2. Kelly allegedly forced several of his girlfriends to have sex with the young man while he filmed the encounters.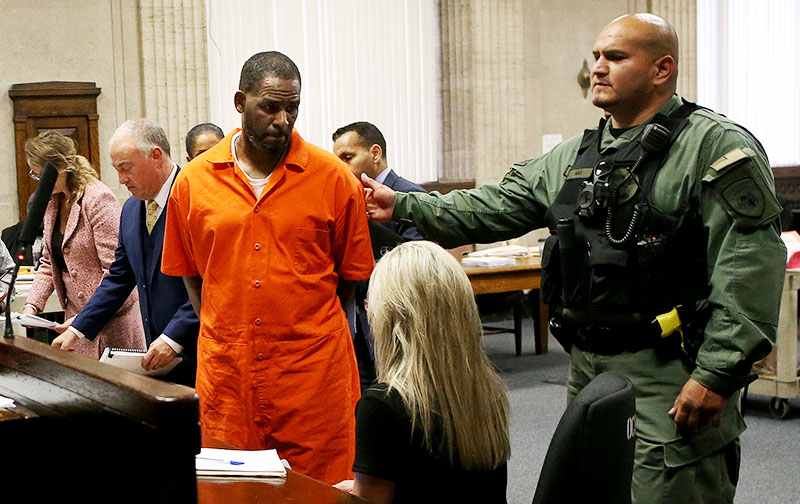 In court documents filed on Friday, July 23, and obtained by the Chicago Sun-Times, prosecutors asked a judge to permit them to submit new evidence of the allegations at Kelly's upcoming racketeering trial in federal court in Brooklyn, New York.
Kelly faces federal charges of violating the Mann Act involving the coercion and transportation of women and girls in interstate commerce to engage in illegal sexual activity.
The singer, born Robert Sylvester Kelly, has not been charged with any new sexual offenses, according to the Post.
Prosecutors also claim to have evidence that Kelly sexually abused singer Aaliyah and married her in 1994, when she was 15, so that she couldn't be forced to testify against him. She died in a plane crash in 2001.
According to the Chicago Sun-Times, a woman named Jane Doe #5 claimed Kelly asked her to search the internet for "child pornography involving boys for him".
According to court papers, a search of Kelly's computer corroborated the claim.
Additionally, the musician is accused of leading an enterprise to recruit women and girls for sex. He denies any wrongdoing. His Brooklyn trial is scheduled for August 9.
A separate trial for child pornography charges is set in his native Chicago, Illinois in September.
Kelly was recently slapped with a $2 million dollar tax lien for allegedly failing to pay taxes in 2008. As reported by Radar Online, the IRS filed a lien against Kelly's former Illinois mansion.
Kelly has pleaded not guilty on all counts.