Joe Biden and First Lady Dr. Jill Biden attended a memorial to the 10 murder victims at Tops Supermarket at Jefferson Avenue and Riley Street on Tuesday, May 17, 2022 in Buffalo, NY.
The Supermarket was the site of a fatal shooting of 10 people at a grocery store in a historically Black neighborhood of Buffalo.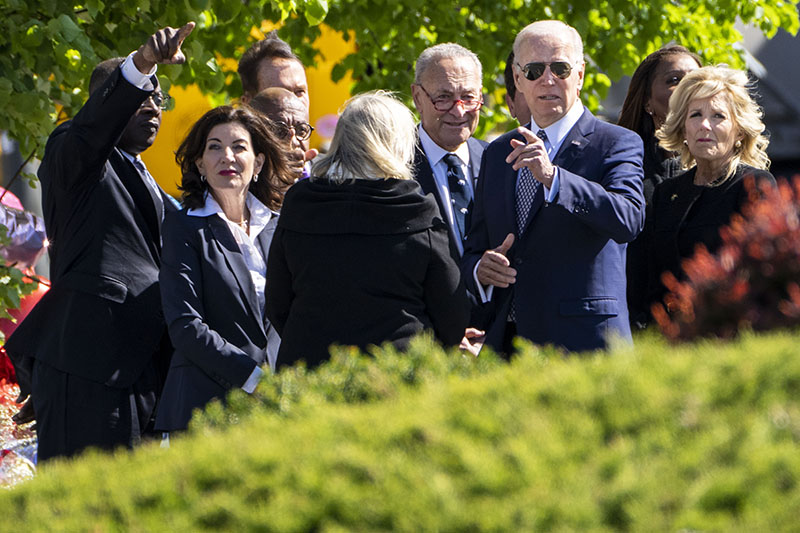 The president stands with Senate Majority Leader Chuck Schumer (D-NY), New York Governor Kathy Hochul, Sen. Kirsten Gillibrand (D-NY), New York Attorney General Letitia James at the memorial to the fallen victims.
The Bidens visited Buffalo to "grieve with the families" of the 10 victims, according to the White House.
"The President will call this despicable act for what it is: terrorism motivated by a hateful and perverse ideology that tears at the soul of our nation," a White House official said.
"He'll call on all Americans to give hate no safe harbor, and to reject the lies of racial animus that radicalize, divide us, and led to the act of racist violence we saw on Saturday that took the lives of 10 of our countrymen."
Biden will also push Congress to pass stricter gun control laws.
The victims are identified as Roberta Drury, 32; Ruth Whitfield, 86; Geraldine Tally, 62; Celestine Chaney, 65; Katherine Massey, 72; Pearl Young, 77, Andre Mackniel, 53; Heyward Patterson, Aaron Salter, 55; and Margus D. Morrison, 52.
A lone gunman opened fire with an assault rifle, killing 10 and injuring 3, at the store on Saturday.
The shooting is being investigated as a hate crime and an act of racially-motivated violent extremism, according to federal officials.
The 18-year-old gunman was reportedly influenced by racist memes and other postings on a message board frequented by extremists and white supremacists.
The gunman's family say he "snapped" due to the COVID lockdowns and isolation during the pandemic.