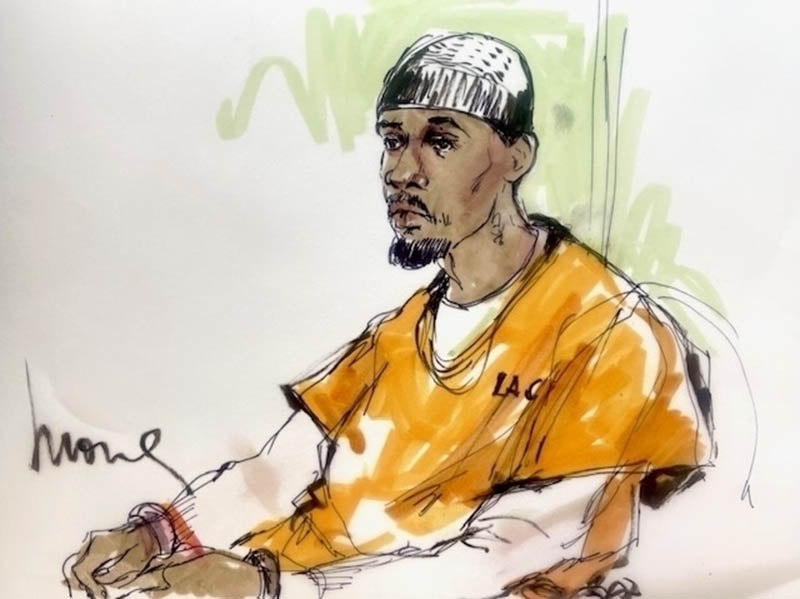 Retired rapper Tory Lanez appeared in Superior Court in downtown Los Angeles, where a judge set a new sentencing date of April 10.
Lanez arrived in court wearing a jail-issued orange jumpsuit and a black wave cap.

RELATED: Audio of Tory Lanez's Jailhouse Phone Call to Kelsey Harris Leaked

The former rapper was convicted in December of assault and other charges for shooting fellow rapper Megan Thee Stallion in the feet in 2020. He has been held in jail while awaiting sentencing, which was set for today, Feb. 28.
He said "yes, your honor" when the judge asked him if he waived his sentencing date until April 10.
Superior Court Judge David Herriford agreed to set a new sentencing date after Lanez fired his attorneys and retained a new legal team.
Lanez hired Suge Knight's former lawyer David Kenner, who filed a motion asking for a new trial.
The motion for a new trial will be heard on April 10. If the motion is rejected, Lanez's sentencing hearing will be held on that date. He faces a sentence of 22 years and eight months in prison.
According to legal reporter Meghann Cuniff, the judge also lifted a gag order that prevented Lanez from talking about the trial or Megan Thee Stallion.
Kenner called the gag order on Lanez "a terrible injustice, and the judge fixed that this morning."
Also seen outside court was Michael "Harry-O" Harris, founder of Godfather Entertainment and co-founder of Death Row Records, according to Cuniff. Harris is likely paying Lanez's legal bills.
Here's David Kenner and Harry-O outside court just now. I don't have the name of the man with shades who's with them but I bet someone on Twitter can identify him. pic.twitter.com/F9LjEc8p4K

— Meghann Cuniff (@meghanncuniff) February 28, 2023