Latto (left) hired Teyana Taylor (right) as her full-time creative director after she went viral for allegedly Photoshopping the crowd at her Coachella concert.
According to blogger B Scott, Teyana and her Aunties Productions team handled the creative direction of Latto's set at Coachella. But Teyana did not approve of the Instagram Photoshop fail that swept social media last weekend.
As you know, Latto posted an Instagram photo of the crowd after her Coachella set. But her sharp-eyed followers noticed some of the people in the crowd were duplicated in the photo.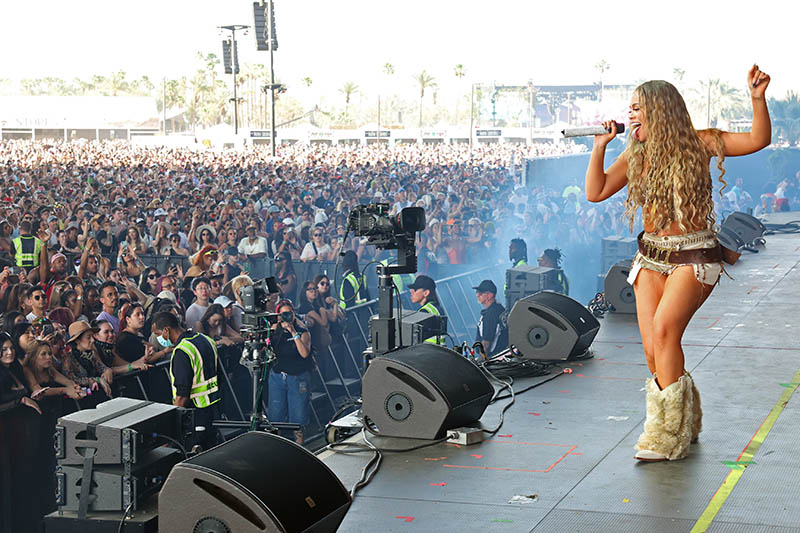 How embarrassing.
Latto is being called out for photoshopping the crowd during her #Coachella performance. pic.twitter.com/LIpIFXBIee

— Pop Tingz (@ThePopTingz) April 18, 2023
Latto later explained that she was rushing and expanded the image so it would fit in her Instagram swipe.
"Never photoshopped a crowd lmao I expanded it so it would fit in my Instagram swipe without getting cut off but it was clearly f*cked up so I didn't end up using it & just posted the wrong version by accident on Twitter babes."
Latto wants to make sure she isn't humiliated like that again. So she's hiring her Auntie, Teyana, as her full-time creative director for all of her concerts.
"The Aunties are not just regular creative directors, we're cool creative directors @theauntiesinc," Teyana captioned an Instagram compilation video.
"I am truly a proud AUNTEYYYYYYYYYYYYY @latto777 you did ya big one both weekends. I'm so proud of your growth, willingness to be a student to better your craft and your dedication! I'm so excited for the journey ahead with you as your CD. 4 shows down together and a lot more to goooooooo! Let's goooooo!"
Vibe magazine reported in June 2021 that Teyana served as the creative director for Latto's debut PrettyLittleThing campaign.