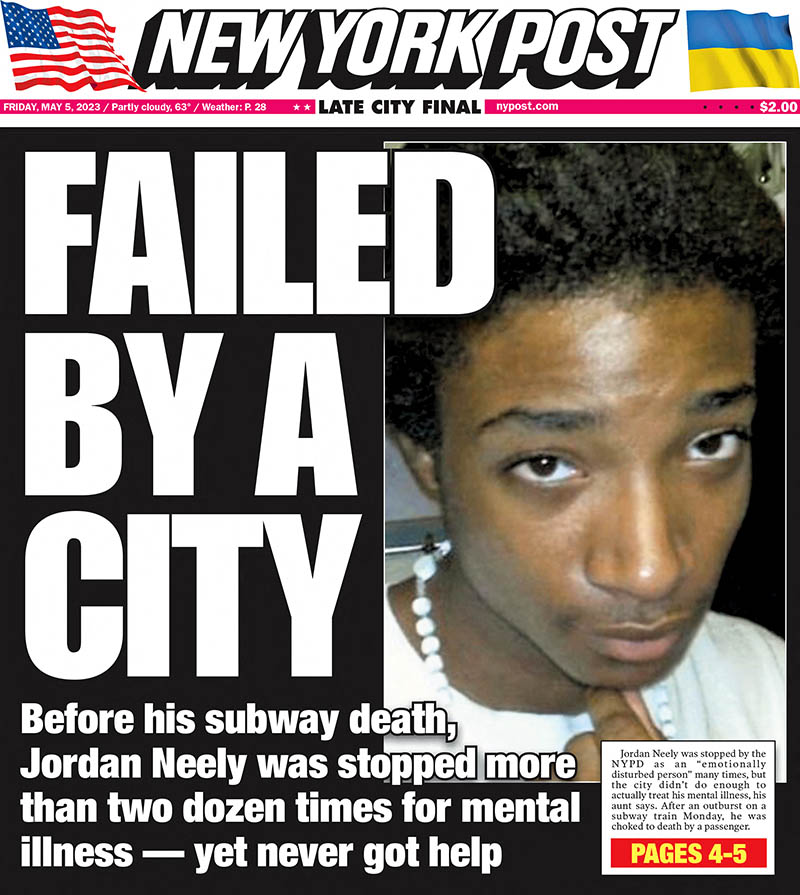 Cellphone video shows Jordan Neely attacking members of the LGBT+ community in NYC.
In the undated video, Neely is dressed as his idol Michael Jackson while hurling offensive slurs at people on a crowded sidewalk in NYC.
"You look like a f****t," he tells one person. "You look like a f*****g drag queen."
The person behind the camera called Neely: "Angry Michael."
Here is Jordan Neely openly attacking the gay community, drag queens, and using homophobic slurs before physically assaulting a man.

Where do liberals go from here? pic.twitter.com/c5dSMXMwsS

— Amiri King (@AmiriKing) May 5, 2023
Jordan was a street performer who was known for his Michael Jackson impersonations as a teenager. His aunt said he was diagnosed with schizophrenia and autism. He descended into madness after his mother, Christie, was strangled to death by her boyfriend in 2007.
This is Jordan Neely.

On Monday, he was lynched.

On the NYC subway he started telling passengers that he was fed up being hungry, thirsty and having no place to rest. He began to shout in his frustration, and threw his jacket on the floor.

An ex-marine then murdered him.? pic.twitter.com/givJukrhlK

— Marxist777 (@Marxist777) May 3, 2023
Rest In Peace, Jordan Neely. pic.twitter.com/sZ25wovedU

— Marxist777 (@Marxist777) May 3, 2023
On Monday, Neely boarded the F train and began yelling and throwing garbage at passengers, according to witnesses.
A former US Marine, identified as Daniel Penny, 24, restrained Neely and put him in a chokehold. Two other passengers helped to subdue Neely.
According to reports, a bystander stepped inside the train car and warned Penny: "If you suffocate him, that's it. You don't want to catch a murder charge."
Moments later, Penny released the chokehold and the men rolled Neely over onto his side. Neely was later pronounced dead at a nearby hospital.
Here's what @AOC cut out of the video

There was another guy helping restrain Jordan Neely, and he happened to be black

Seems like an important thing to leave out, @AOC pic.twitter.com/cLwZLlGKBz

— Jack Poso ?? (@JackPosobiec) May 5, 2023
Penny was arrested on Monday but he was released without charges.
The DA's office is considering a murder charge after a medical examiner ruled his death as a homicide caused by "neck compression" or asphyxiation.
Penny has retained high-profile criminal defense attorney Thomas Kenniff to represent him if he's charged.
Protesters demonstrated on the subway platform on Wednesday. They say Neely was "lynched" for being a homeless Black man.
However, some New Yorkers say Neely's violent past and criminal history make it hard to muster any sympathy for him.
Neely was arrested 42 times in 10 years for violent incidents, including punching a 67-year-old woman in the face and attempting to shove a man onto the tracks.
Users in a Reddit.com thread shared their harrowing encounters with Neely.
One Redditor wrote:
"This man jumped on me, grabbed my shoulders, and pushed me towards the tracks Sunday night at this very station. I was able to run away but he got physical and chased other people standing on the platform before getting on an uptown train. This whole thing is so sad."
Another Reddit user wrote:
"I am pretty sure I had a run in with this guy a few weeks ago on the F [train]. He was throwing around a city bike and yelling about how he was going to kill people. Most left the car but this poor Asian lady got stuck by him, so a few of us couldn't leave her alone with him. If it's the same guy, yeah he was either going to hurt someone or get mirk'd by a cop or a bystander sooner or later."
And a woman wrote:
"I am fairly confident had a run in with him last summer, from the photos and everyone's description of him. I was heavily pregnant, taking the train to work and he got in the car and started screaming about how he could get away with murder, etc. He looked at me and yelled " You're lucky you knocked up, I ain't no baby killer, white bitch!" and started to move towards me, but thankfully a group of 3 large, built guys stepped in front of me and stared him down. He screamed at them to fight him until the next stop then got off."