Lizzo says she is "hurt" by allegations that she sexually harassed three former dancers and created a hostile work environment.
The three dancers filed a bombshell lawsuit in Los Angeles Superior Court, according to NBC News.
The plaintiffs, Arianna Davis, Crystal Williams, and Noelle Rodriguez, accused the singer of forcing them to touch nude performers at an Amsterdam strip club.
They were allegedly coerced to catch "dildos launched from the performers' vaginas, and eating bananas protruding from the performers' vaginas," the suit says.
The backlash has hurt Lizzo both personally and professionally. Her boyfriend Myke Wright reportedly broke up with her and unfollowed her on Instagram.
And Beyonce left Lizzo's name out of her song "Break My Soul (The Queens Remix)" during a performance in Boston on Tuesday night.
Lizzo addressed the accusations in a post on Instagram early Thursday. The embattled pop star called the allegations "unbelievable" and "outrageous". She insisted the former dancers were let go because they were warned about their own "inappropriate and unprofessional" conduct on tour.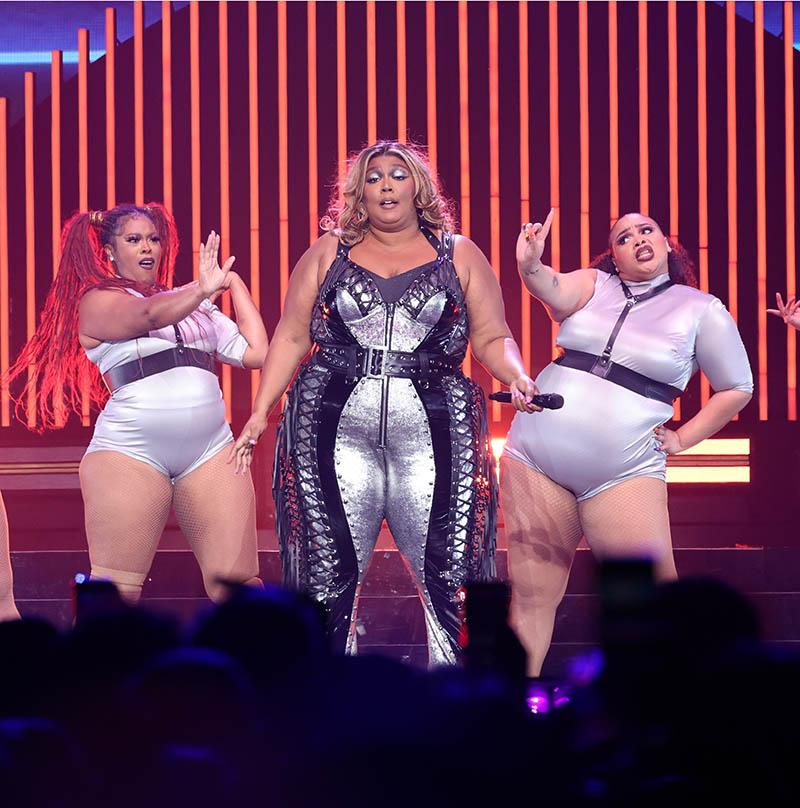 "These last few days have been gut wrenchingly difficult and overwhelmingly disappointing," she said in her statement.
"My work ethic, morals and respectfulness have been questioned. My character has been criticized. Usually I choose not to respond to false allegations but these are as unbelievable as they sound and too outrageous to not be addressed.

"These sensationalized stories are coming from former employees who have already publicly admitted that they were told their behavior on tour was inappropriate and unprofessional.

"As an artist I have always been very passionate about what I do. I take my music and my performances seriously because at the end of the day I only want to put out the best art that represents me and my fans.

"With passion comes hard work and high standards. Sometimes I have to make hard decisions but it's never my intention to make anyone feel uncomfortable or like they aren't valued as an important part of the team.

"l am not here to be looked at as a victim, but I also know that I am not the villain that people and the media have portrayed me to be these last few days."
However, Lizzo admitted she is a freak in the bedroom and bananas play an important role in her foreplay.
"I am very open with my sexuality and expressing myself but I cannot accept or allow people to use that openness to make me out to be something I am not," she said.
"There is nothing I take more seriously than the respect we deserve as women in the world. I know what it feels like to be body shamed on a daily basis and would absolutely never criticize or terminate an employee because of their weight.

"I'm hurt but I will not let the good work I've done in the world be overshadowed by this. I want to thank everyone who has reached out in support to lift me up during this difficult time."
More former Lizzo associates have come forward to share their own harrowing experiences on tour with Lizzo.
Former dancer Courtney Hollinquest re-posted a link to the lawsuit on her Instagram Story, writing:
"For clarification, I'm not apart of the lawsuit—but this was very much my experience in my time there. Big shoutout to the dancers who had the courage to bring this to light."
Quinn Whitney Wilson, Lizzo's former creative director, also posted a message on Instagram backing the dancers and praising their courage.
"I haven't been apart of that world for around three years, for a reason. I very much applaude [sic' the dancers courage to bring this to light. and I grieve parts of my own experience. I'd appreciate space to understand my feelings."
And documentary filmmaker Sophia Nahli Allison wrote, "in 2019, I traveled a bit with Lizzo to be the director of her documentary. I walked away after about 2 weeks. I was treated with such disrespect by her."
"I witnessed how arrogant, self-centered, and unkind she is. I was not protected and was thrown into a shitty situation with little support. My spirit said to run as fast as you fucking can and I'm so grateful I trusted my gut. I felt gaslit and was deeply hurt, but I've healed. Reading these reports made me realize how dangerous of a situation it was. This kind of abuse of power happens far too often. I'm sharing this because validating other Black women's experiences is deeply important to me."
Lizzo's dance Caption Shirlene Quigley doubled down on the allegations that she proselytized to the dancers about premarital sex and forced Christianity on them.
In a video shared on Instagram, Shirlene didn't deny that she tries to lead the unwashed masses to the Lord.
"God loves you so so so so much. #neverforgetthat," Shirlene captioned her video.
Watch the video below.