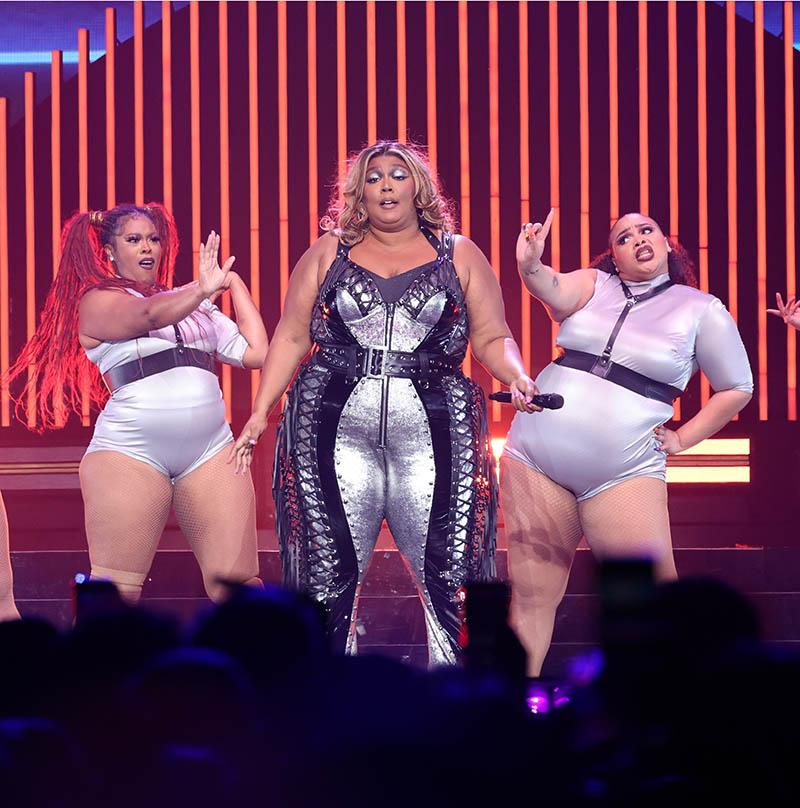 Three former dancers filed a lawsuit against pop singer Lizzo, accusing her of sexual harassment and creating a hostile work environment.
The lawsuit was filed in Los Angeles Superior Court and provided to NBC News by the plaintiffs' lawyers.
The plaintiffs, Arianna Davis, Crystal Williams, and Noelle Rodriguez, accused the singer of forcing them to simulate sex with other female performers at an Amsterdam strip club.
They were allegedly coerced to catch "dildos launched from the performers' vaginas, and eating bananas protruding from the performers' vaginas," the suit says.
"Lizzo then turned her attention to Ms. Davis and began pressuring Ms. Davis to touch the breasts of one of the nude women."
Davis declined, and Lizzo allegedly led the other dancers in a chant to humiliate Davis, who is heterosexual.
After Davis declined three more times, the chant "grew louder and more strident, demanding a visibly uncomfortable Ms. Davis to engage with the performer."
Davis auditioned to compete in Lizzo's Amazon reality TV show, "Watch Out for the Big Grrrls," in 2021, according to the lawsuit. She was later fired.
Rodriguez was hired in 2021 after dancing in the music video "Rumors." She resigned earlier this year.
Williams was fired April 26, days after she challenged Lizzo's allegation that the dancers were drinking before performances.
Davis says she recorded an April 27 meeting because she suffered from an eye condition. Days later, Lizzo held an emergency meeting and had security guards confiscate dancers' cell phones, the lawsuit states.
The lawsuit also alleges false imprisonment against Lizzo's production company after security held Davis in a room after the meeting to search her phone for the video.
Rodriguez said during the meeting, she told Lizzo she felt disrespected and would resign. Lizzo responded by "cracking her knuckles, balling her fists" and using an expletive to tell Rodriguez she was "lucky," the suit states.
In April, Lizzo created a "safe space" for drag queens at her show in Tennessee after Republican lawmakers restricted drag shows.
"Why would I not create a safe space in Tennessee where we can celebrate drag entertainers and celebrate our differences and celebrate fat Black women?" Lizzo said.