Actress Angelina Jolie and her sons, Pax and Maddox (not pictured), attended an AKA luncheon in Atlanta, Ga., after Zahara Jolie was inducted into the Alpha Kappa Alpha sorority over the weekend.
Dr. Jackie Walters of the Bravo reality TV show "Married to Medicine" spoke at the event, and later shared photos on Instagram.
Walters captioned a slideshow:
"It was so much honor to share my heart and to have been the keynote speaker for the Fall '23 finest @19sweetmupi79 Alpha Kappa Alpha Sorority, Incorporated.'"
She added that it was an honor "to have met @angelinajolie."
Zahara, 18, proudly announced herself at the AKA induction ceremony on the Spelman College campus in Atlanta last week.
"My name is Zahara Marley Jolie. And [I] landed all the way from the Golden State in the city full of angels: Los Angeles, California," she said.
Essence magazine obtained video of Zahara dancing as she introduced herself to the cheering crowd.
Twitter/X users noticed that Zahara didn't mention her dad Brad Pitt's last name when she introduced herself.
"I wasn't gonna say anything, but I definitely peeped that Zahara left Pitt off her last name," one person wrote.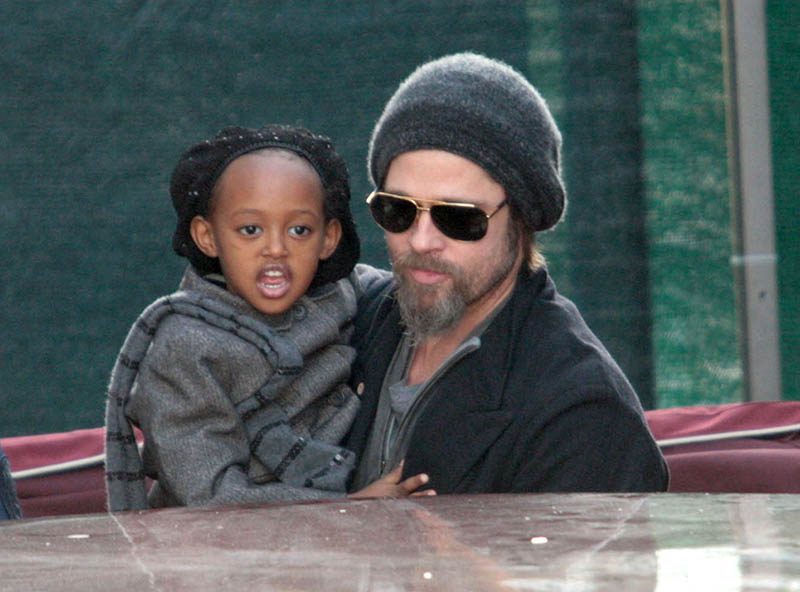 Another person wrote, "Oh Zahara said her last name is Jolie, not Jolie-Pitt."
A third person tweeted: "I need people to respect her as an individual who just said her name out loud ZAHARA. MARLEY. JOLIE. Zero mention of the name PITT. Periodt."
Angelina and Brad tied the knot in September 2016 after a 13-year relationship.
She filed for divorce on September 19, 2018 citing "irreconcilable differences."
Angelina seemed to approve of Zahara dropping Brad's last name. Mother and daughter are pictured touring Spelman's campus during Homecoming last year.
Angelina and Brad share six children – Maddox, 22, Pax, 19, Zahara, Shiloh, 17, and 15-year-old twins Knox and Vivienne.
Angelina is pictured in June with her children Pax, Vivienne, Zahara and Shiloh (far right) at JFK International Airport in New York.
So far, only Zahara has dropped Brad's last name.
Angelina adopted six-month-old Zahara Marley from an orphanage in Addis Ababa, Ethiopia, on July 6, 2005.
Zahara's bio mother and grandmother believed she was HIV-positive because she was sick. But Zahara tested HIV-negative after Angelina adopted her.