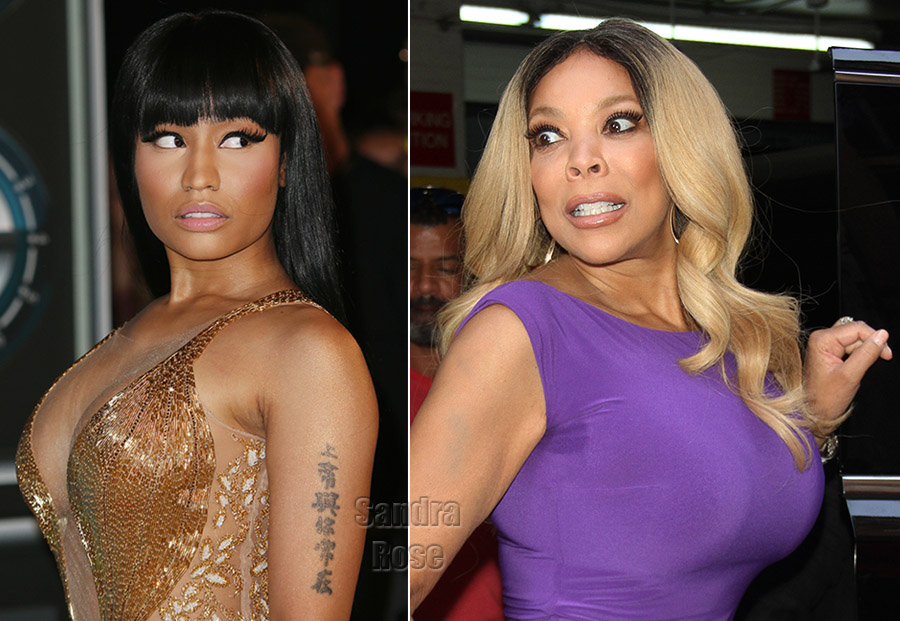 Buxom daytime TV talk show Diva Wendy Williams was made a guest appearance on 'HuffPost Live' in New York City on Wednesday. Wendy sparked outrage on social media when she took sides in the manufactured TV spat between singer Miley Cyrus and rapper Nicki Minaj.
As you know, Nicki and Miley got into it during last weekend's live telecast of the 2015 MTV Video Music Awards. Many viewers suspected the argument was staged by MTV to boost TV ratings. Unfortunately for MTV their effort failed. This year's VMA Awards fell 500,000 viewers short of last years' show.
Wendy, who didn't watch the awards, took Miley's side. Wendy told HuffPost Live she was "disappointed" in 32-year-old Minaj for picking on the "kid" Miley Cyrus.
"I didn't watch the VMAs, because again, I was on tour and I was busy sleeping and moisturizing," Wendy said. "But I did see the clip and I was very disappointed in Nicki. And I don't have an opinion on either one of the girls -- bad, good or indifferent. You know, they're both talented in their own way. I just feel that Nicki is like twice Miley Cyrus' age and it would have been nice if Nicki would have just taken her award, rolled her eyes and looked at the camera—and then kept it moving. I don't know, I just, who fights with kids?"
Photos: Roger Wong/INFphoto.com and FayesVision/WENN.com