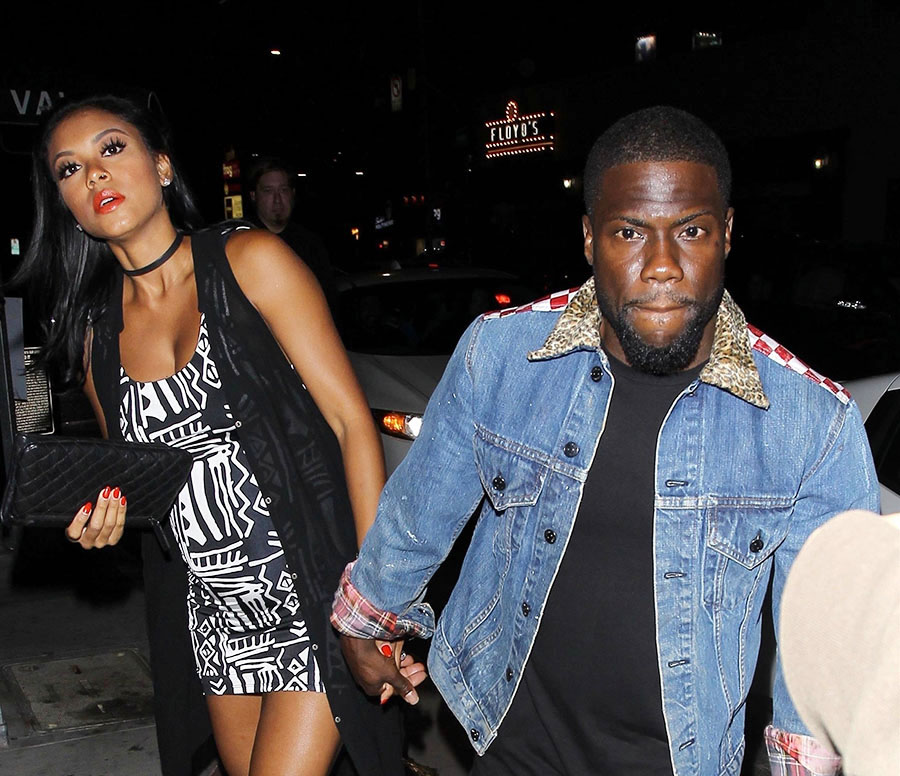 Kevin Hart hit back at rumors that he had car sex with a woman who isn't his pregnant wife, Eniko Parrish. Rumors swirled after a video surfaced online that appears to show the 38-year-old comedian in the back seat of a Lexus with a mystery woman at 5 am on July 3 in Miami.
The report originally stated he was in the car with two women.
Rumor has it that Kevin picked up the brunette at a Miami nightclub, and that the woman set him up by tipping off the paparazzi.
The 20-minute video went viral on social media this week, and fans of the vertically-challenged actor mocked him online.
The father-of-3 initially laughed off the cheating rumors — which is the typical response when a man is caught in the act.
He posted a meme on social media of himself laughing with a banner which read, "At the end of the day, you just gotta laugh at the BS" on social media. He added in the caption: "#LiveLoveLaugh… SMDH (Shaking my damn head)."

SEE ALSO: Kevin Hart Laughs Off Cheating Rumors

But Kevin got very serious during an interview with Entertainment Tonight on Thursday.
"It's absolutely not true," he said of the cheating rumors. "It's Miami, the clubs close at 6 am, so I was actually going home early."
Internet sleuths quickly identified the mystery woman in the car as Miami singer Monique, who is best known for her song "El Perdon," featuring Pitbull.
Fans believe the diminutive actor gave Monique a ride home from the club — and she returned the favor by giving him a "ride home" in the back seat of the car.
But Monique was quick to deny any sort of misconduct with a married man.
She responded to the claims in a direct message chat with Power 96 presenter Lucy Lopez on Thursday.
According to Lopez, when asked about the video, Monique replied: "When they make something out of nothing you just gotta laugh – I know who I am and my truth."
That last part is something that a LGBT person would say — which only deepens the mystery surrounding her.
If Eniko is upset about the latest developments, she isn't showing it. She is the latest to join the Hollywood wives with cheating husbands club.

SEE ALSO: Jay-Z apologizes to Beyonce for cheating on her

The 32-year-old first-time mom shared a selfie showing off her small baby bump on Instagram.
"Much hasn't really changed. I'm still in the gym 3-5 days a week and I feel GREAT! The BBB's got a little bigger… Boobs, Butt & Belly of course but I'll take it! Thanks little guy! xo. #Happy6months," Eniko wrote.
Kevin and Eniko are expecting a baby boy together. The recently married couple was pictured holding hands in Miami on July 11.
Kevin also shares 12-year-old daughter Heaven and son Hendrix, 9, with his ex-wife Torrei Hart.
Photos by HEDO/BACKGRID