Ron and Hope Carpenter served Pastor John Gray and his Relentless Church with a 30-day notice to clear off their property.
The scandalous events surrounding the falling out between Ron and Hope Carpenter and Gray's Relentless Church in Greenville began with a partnership in 2017.
The Carpenters, who owned the Redemption Church and the land that it sits on, announced they were moving to California to take over another church. They handed over the keys to Gray, who served as associate pastor at Joel Osteen's Lakewood megachurch in Texas.
Gray renamed the church to Relentless. A parade of influential pastors, including Osteen, traveled to Greenville to formally install Gray as senior pastor, according to The Greenville News.
In late 2018 Gray begged his wife for forgiveness after confessing that he cheated on her.
In August 2018 Gray visited President Donald Trump at the White House to attend an "inner city pastors" meeting.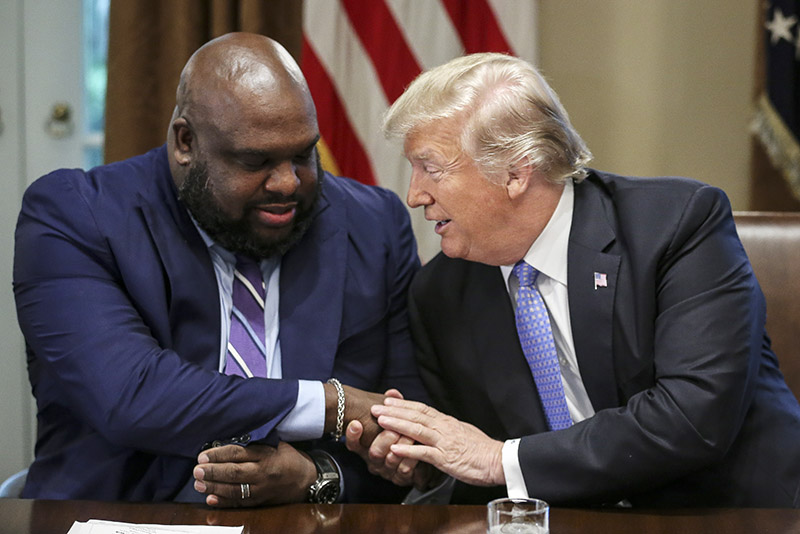 Gray later said attending the meeting was mistake and he promised he would not meet with Trump again.
In November 2018 The Greenville News reported that Gray urged the needy to take from the church's collection plates. He also pledged support for Picken's County's first homeless shelter.
In December 2018 Gray presented his wife, Aventer Gray, with a brand new $200K Lamborghini SUV for their eighth wedding anniversary. The lavish gift sparked a public outcry.
In a post on social media, Gray acknowledged the public's outrage and assured his congregation that the money for the vehicle came from his non-church income.
In addition to being an author, Gray also has a reality TV show on Oprah's OWN Network.
Aventer defended her husband in a social media post.
"I don't see anyone screaming about how basketball players drive what they do while you paying $$$ to see them play in arenas and on fields. We don't live for people! We live for God!"
In December 2018, The Greenville News reported the Grays lived in a $1.8 million mansion in Simpsonville that was purchased by the church.
Church leaders said the opulent mansion was necessary to lure a pastor of Gray's caliber to Greenville.
In March 2019, Gray told his congregation the Carpenters left the church "millions of dollars in debt." He said the church needed a new $250,000 roof and he asked 2,500 people to give $100 or more.
"(Ron Carpenter) handed us keys. The keys were not to a paid off building, the keys were to an opportunity, an opportunity to continue the work," Gray said. "Nothing you see is paid off. It wasn't paid off when we got here."
In April 2019, Hope Carpenter made a surprise visit to Relentless Church to address Gray's allegations. "I cut people" and "I got a knife right there in that pocketbook, so Greenville News, come on," she said.
Tragic: Ron Carpenter Evicts John Gray and Relentless Church as of November 26; They Must Leave by December 31 … Larry Reid Live Reports https://t.co/klLaMbwl9n pic.twitter.com/5aiEzIKUtL

— BCNN1 (@bcnn1) December 5, 2019
Everything came to a head last month when the Carpenters sent Gray a 30-day notice ordering his congregation off their property. The letter gave Relentless Church 30 days to get out.
According to The Greenville News, Relentless Church responded with a legal letter outlining counterclaims and saying it had paid the church's lease in full.
The controversy blew up on social media, with Gray's supporters calling the Carpenters racists and opportunists.
"[I don't know] what John Gray did or did not do. But my problem is with the bigger issue of white preachers pastoring majority black congregations, who, when the money (back to them) ain't right (allegedly), they want to come back and "rescue" the church from the inept black pastor," tweeted seminary student Kevin Vandiver.
But Gray's critics sounded off as well.
One Twitter user wrote, "I guess they had to evict John gray & they blew through all the money. I feel like Ron trusted gray to be trustworthy".
Another user tweeted:
"John Gray and them getting evicted !?? You mean to tell me that lambo truck didn't tip they asses off months ago!?!? .. and this man STILL has supporters + a wife!?? .. Chile."