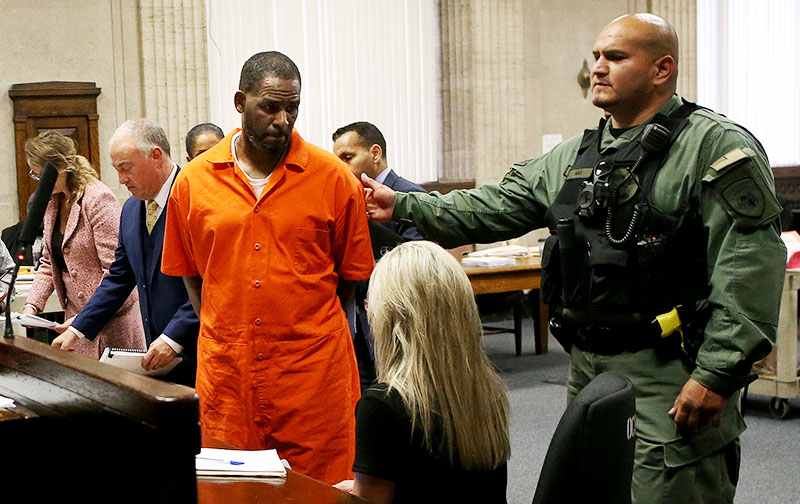 R. Kelly's attorney filed a motion to block potential jurors who have seen the Lifetime docuseries "Surviving R. Kelly."
Kelly, 55, was convicted of trafficking women in New York, and sentenced to 30 years in prison in June.
The disgraced R&B singer has returned to his native Chicago, where he will stand trial for child sex trafficking and other federal offenses.
About 100 potential jurors filled out questionnaires last week, the Chicago Tribune reported. The questionnaires are the first steps to seat a jury pool in Kelly's upcoming federal trial.
In her motion, Kelly's attorney Jennifer Bonjean said a number of potential jurors indicated they had watched "Surviving R. Kelly."
"Some potential jurors who have seen the documentary have indicated that they are still capable of being impartial. This representation is in a word – absurd," she wrote.
Jury selection in the case begins Monday, Aug. 15.
Meanwhile, Kelly's former live-in girlfriend, Joycelyn Savage claims she is pregnant with his unborn child.

RELATED: R. Kelly's lawyer denies Joycelyn Savage's claims she is pregnant

She made the revelation in her 11-page pamphlet, strong>available on Amazon, titled "Love and Joy of Robert."
Joycelyn, 26, didn't explain how she managed to fall pregnant when Kelly has been incarcerated for three years and was never allowed conjugal visits.
Bonjean adamantly denied Joycelyn is carrying Kelly's child.
She told TMZ that Joycelyn is "certainly not pregnant with R. Kelly's child."
The attorney added that some "people are just insane."