Cardi B returned to Queens County Criminal Court on Tuesday for a hearing after she failed to complete her court-ordered community service.
The 30-year-old rapper, full name Belcalis Almánzar Cephus, attended a compliance hearing regarding the terms of her plea deal agreement over a strip club assault in Queens in 2018.
She arrived in style, rocking an oversized white polar bear fur coat, which she accessorized with Louboutin pumps and a pair of white Christian Dior sunglasses.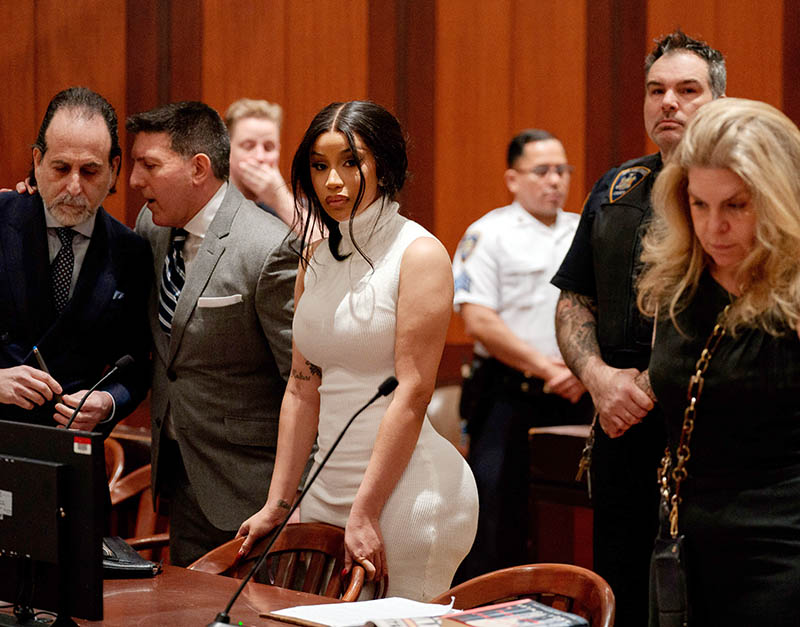 In the courtroom, Cardi B wore a skintight white frock that showed off her expanding hips and buttocks. Cardi made a video last year advising young women to forego getting "a** shots" because they're dangerous. She is in favor of BBLs (Brazilian butt lifts) which uses the body's own fat re-injected into the hips and butt.
Part of her plea agreement called for the mother-of-two to complete her sentence which includes community service. But Cardi was too busy taking vacations with her husband, rapper Offset, going on shopping sprees, and living la vida loca on social media to complete her community service.
A Queens District Attorney tells TMZ that Cardi was supposed to complete her community service by Tuesday, but so far, she hasn't completed a single hour.
A very lenient judge gave the "WAP" rapper until March 1 to complete her sentence, which includes 15 days of community service.
The judge already let Cardi B off with a slap on the wrist for ordering the assault of rapper Tekashi69's girlfriend and her sister who worked together at a strip club.
Back in September, Cardi B pled guilty to 3rd-degree assault and reckless endangerment, both misdemeanors.