U.S. Congressman George Santos pleaded not guilty to charges of embezzling funds from his own campaign.
Santos, 34, surrendered to authorities on Wednesday and made an initial appearance at a federal courthouse on Long Island. Federal prosecutors allege that Santos used campaign contributions to line his own pockets.
After pleading not guilty, he was released on $500,000 bond.
Santos was mobbed by dozens of reporters as he exited the courthouse just after 3 p.m. He denied called the federal government's case "a witch hunt."
"This is the beginning of the ability for me to address and defend myself," he told reporters. "Now I'm gonna have to go and fight to defend myself. The reality is it's a witch hunt because it makes no sense that in four months, five months I'm indicted."
The reporters began booing when Santos compared his predicament to President Biden whose family reportedly received payments from China.
"You have Joe Biden's family receiving deposits — nine family members receiving money from foreign destinations into their bank accounts," he said. "A lot of you here have reported on them and yet no investigation is launched into them."
Santos added that he looks forward to clearing his name.
"It's a witch hunt" — George Santos

Santos is then booed when he tries some Hunter Biden whataboutism pic.twitter.com/i2LSurGJKV

— Aaron Rupar (@atrupar) May 10, 2023
Santos was indicted on 13 counts, including wire fraud, money laundering, theft of public funds and making false statements to Congress.
According to the indictment, the NY Republican induced supporters to donate to a company under false pretenses that the money would be used for his campaign. Instead, prosecutors say he used the campaign donations for personal expenses, including designer clothes, jewelry, credit card payments and car payments.
Santos is also accused of claiming to be a millionaire on congressional disclosure forms and illegally receiving unemployment benefits while New Yorkers are being evicted from their homes.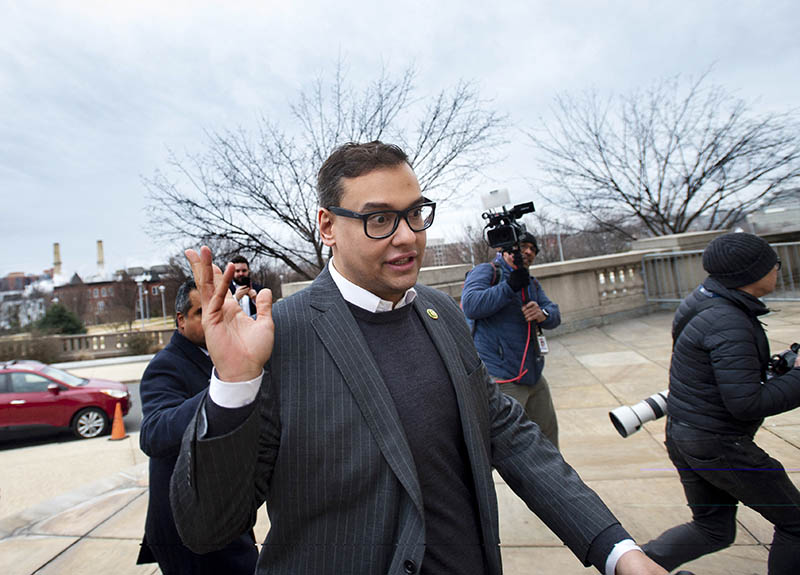 Santos was heavily criticized by fellow Republicans for lying about his sexual identity and religious heritage to win an election.
His lies included the claim that he was openly gay and Jewish. However, Santos told the New York Post: "I never claimed to be Jewish … I am Catholic."
He also said he was "married" to a man, but there is no public record of Santos being married to a man.
Public records show Santos was married to a woman. They divorced in 2019 and he never mentioned her during his campaign.
On his campaign website, Santos said his mother was "the first female executive at a major financial institution" and that she survived the September 11 attacks in NYC.
However, his mother, who died in 2016, was a domestic worker and home care nurse.
Santos also claimed to hold degrees from colleges that have no record of him.
He eventually apologized for lying, but he refused to step down as a House Rep.
"I will be sworn in, I will take office, I will be able to be an effective member of the legislator [sic.] in the soon-to-be 118th Congress," he said in December.