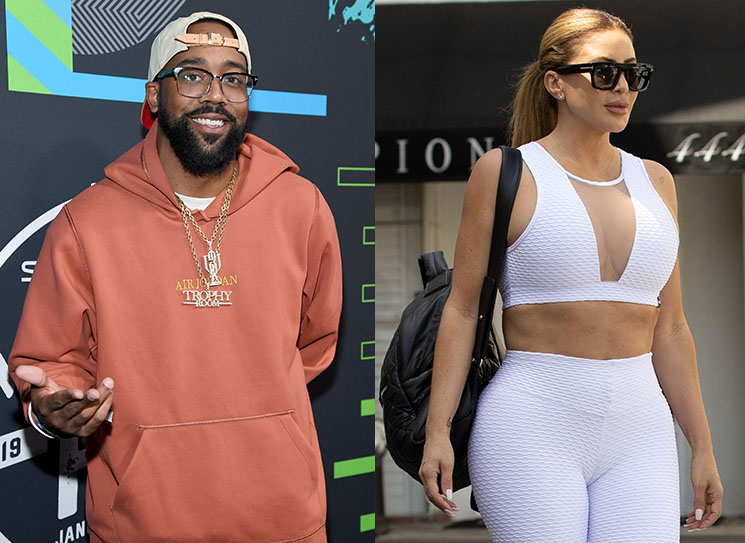 Larsa Pippen is finally off the market after a long dry spell without a man on her arm.
TMZ reports that Larsa was spotted having a cozy lunch with Michael Jordan's youngest son, Marcus, at a Japanese restaurant in Miami over the weekend.
TMZ published exclusive photos of Larsa, 48, and Marcus, 31, eating lunch together at Zuma in downtown Miami.
A source told TMZ they appeared to be on a double date with another couple at their table.
The witness said they dined for about 45 minutes before leaving together. And Larsa looked "skittish" when she realized diners were taking pictures of her.
Larsa was in town to help host the reopening of a friend's retail store at the upscale Aventura Mall.
Larsa and Marcus's hookup is interesting because Michael Jordan, 59, and Larsa's ex-husband, former Bulls teammate Scottie Pippen, 56, are no longer on speaking terms.

RELATED: Larsa Pippen, 48, says it's hard to date because she only wants young rich men

Just last month, Larsa complained that it wasn't easy dating after divorcing Pippen in 2016. Larsa said she was having difficulty looking for a young rich athlete to give her back rubs.
She told Fadeway World:
"I feel like I am kind of mentally in a place of, like, I was married to a really famous guy that was really cute, that had a good body that was really successful that gave me four gorgeous kids. So, where the hell are you gonna find a guy that can like, fill in — it doesn't have to be all of those, but like, a few of those boxes."
Marcus is a former athlete who isn't exactly rich, but he is young and he does have his dad's substantial wealth at his fingertips. It seems that Larsa is willing to settle for the son of a rich athlete. As they say, "Beggars can't be choosers."
Marcus sat in his famous dad's lap as they watched the Chicago Bulls play the Miami Heat in their first home game of the season in November 1993.
Marcus, right, is pictured with his mom, Juanita, left, and sister, Jazmine, at the 'Notorious' movie screening in Chicago in Jan. 2009. Notorious is about the rise and fall of hip-hop's greatest rapper, The Notorious B.I.G. (a.k.a. Christopher Wallace).