Members of the esteemed King family are expressing their disapproval of Boston's new $10 million bronze monument to Dr. Martin Luther King, Jr. and his wife Coretta Scott King.
The sculpture, titled "The Embrace," was inspired by a B&W photo of Dr. King and Coretta embracing after they learned he won the 1964 Nobel Peace Prize.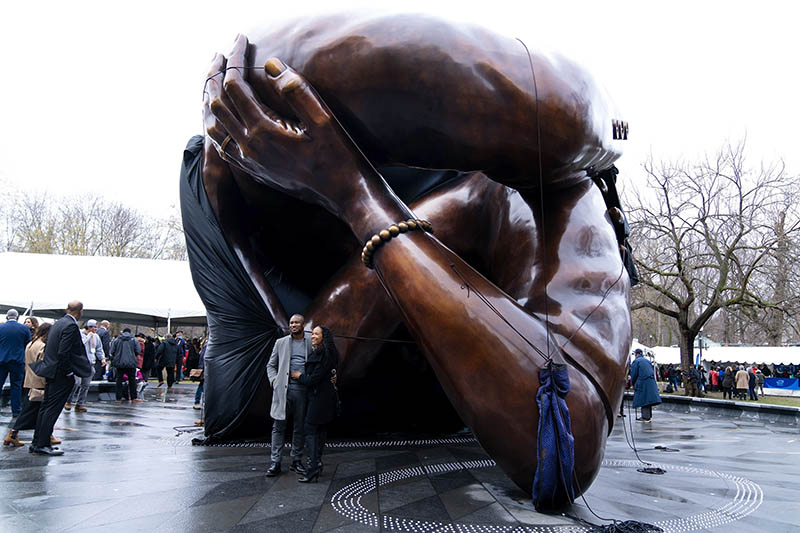 The 20-foot high sculpture was unveiled in Boston Common on Friday, Jan. 13. The public's reaction was mostly negative with many calling it "vulgar" and comparing it to a phallic symbol and oral sex.
The artist, Hank Willis Thomas turned off his Instagram comments amid the furious backlash online.
Martin Luther King III, left, approved the piece, according to the New York Post. He is pictured at the unveiling in Boston with his daughter, Yolanda, and his wife Arndrea Waters King, right.
But another family member disagrees with the cost and the meaning behind the piece.
"The woke algorithm is just broke, I don't know what else to tell you," Seneca Scott, Coretta's cousin, told the NY Post.
"If you went through all of that and that's what you came up with, something's wrong," he said.
In an editorial he wrote for Compact Mag, Scott referred to "The Embrace" as, "Ten million dollars … wasted to create a masturbatory metal homage to my legendary family members…"
Scott said the sculpture is "an insult" to the Scott family name.
"So now Boston has a big bronze penis statue that's supposed to represent black love at its purest and most devotional. This is no accident. The woke algorithm is racist and classist. Therefore, its programming will always produce things that harm black and poor people."
He added: "This sculpture is an especially egregious example of the woke machine's callousness and vanity. Hopefully, it will show more black people that these progressives just aren't in this for our benefit."