Actor, comedian Tracy Morgan is in critical condition at a New Brunswick, New Jersey hospital following a multi-car accident early Saturday.
Morgan, 45, was critically injured when a limo bus he was riding in overturned on the New Jersey turnpike following a six-car crash, NJ.com reports.
The multi-car crash left at least one person dead and several others with serious injuries, including Morgan.
A passenger in Morgan's limo, James McNair, 63, of Peekskill, N.Y., was killed when the bus flipped off the overpass and landed in a parking lot below.
Morgan was air lifted by helicopter to Robert Wood Johnson Hospital in New Brunswick, where he is listed in critical condition in the intensive care unit (ICU).
Morgan's spokesperson, Lewis Kay, released this statement to the press:
"Tracy remains in critical condition at Robert Wood Johnson Hospital. He sustained these injuries in an accident that occurred early this morning as one of several passengers in a chauffeured SUV returning from a tour date in Delaware. His family is now with him and he is receiving excellent care. We don¹t anticipate much of a change in his condition today but will provide a further update once more information becomes available."
The crash occurred at about 1 a.m. Saturday as Morgan was returning from a tour date. Morgan appeared last night at the Dover Downs Hotel & Casino.
Multiple Twitter.com users posted photos of the overturned bus early this morning. No charges have been filed against two tractor trailer drivers involved in the crash but state police Sgt. First Class Gregory Williams said "there could be later today."
Morgan and his 26-year-old girlfriend Megan Wollover (pictured above with Morgan) are expecting his fourth child. The couple had planned a baby shower for June 20.
Morgan is best known for his comedic work in numerous movies and television, including his role as a cast member on Saturday Night Live, a long-running stint as Tracy Jordan on the TV series 30 Rock, and cameo appearances on television sitcoms such as Martin, starring Martin Lawrence.
Morgan once drew the ire of gay rights groups when he famously said he would stab his own son if he "acted gay." He later apologized.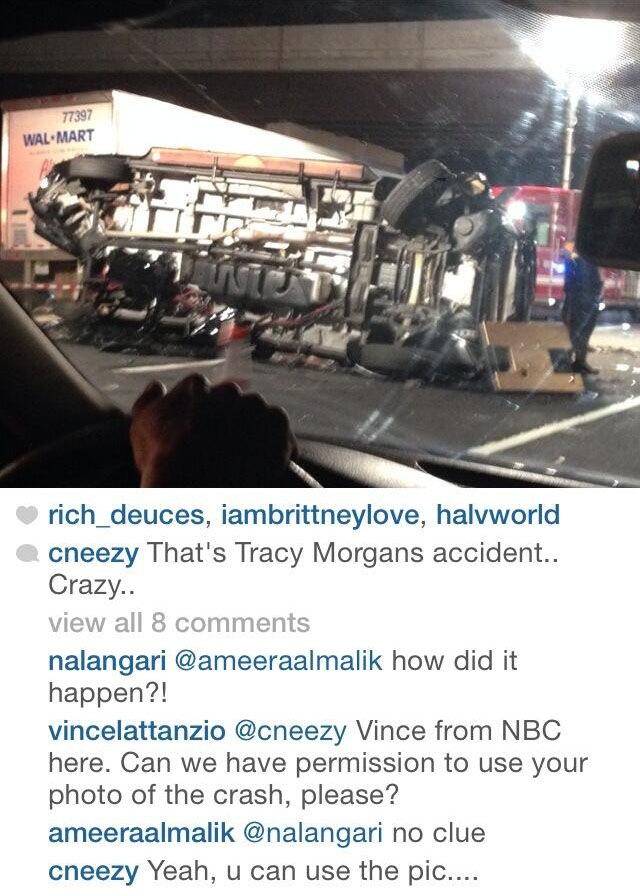 More from Sandrarose.com:

Photo: Ivan Nikolov/WENN.com