Ray Rice's long-suffering wife Janay Palmer responded to his termination from the Baltimore Ravens in typical battered woman fashion — by blaming others for his downfall.
Palmer, 26, posted a message on her private Instagram account on Monday, just hours after Rice's contract was terminated.
Palmer blamed the media and the concerned public for sensationalizing what her then-fiancee did to her in an elevator at Revel Casino in Atlantic City in February.
"To take something away from the man I love that he has worked his ass off for all his life just to gain ratings is horrific," Palmer wrote.
TMZ released video footage on Monday showing Ray Rice knocking out Palmer with one punch. He then callously dragged her out of the elevator and dropped her on the floor like a bag of trash.
"No one knows the pain that the media & unwanted [opinions] has caused my family," Palmer wrote. "To make us relive a moment in our lives that we regret every day is a horrible thing."
Meanwhile, world renowned wife beater Columbus Short also commented on NFL star Ray Rice's termination from the Baltimore Ravens on Instagram.com. And though Short's message was positive and uplifting, his followers dragged him unmercifully. Short lost his plum role on ABC's Scandal TV show starring Kerry Washington as a D.C. "fixer" who makes the president's problems go away.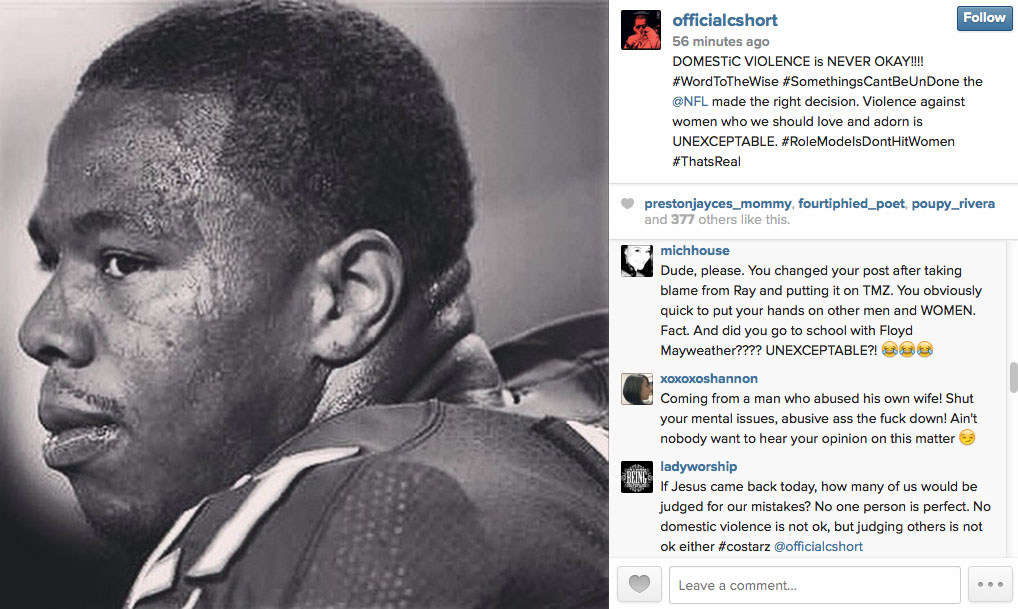 (Click image to enlarge)
Thanks to @Worldwidewaddie for the Columbus Short tip.
More from Sandrarose.com: