Update, Sept. 8, 2023 at 9:03 AM:
Steve Harvey Morning Show co-host Shirley Strawberry will be the subject of her own "Strawberry Letter" on Monday, Sept. 11.
Shirley's popular Strawberry Letter segment discusses topics including marital problems, personal issues, family troubles, and other life problems. The show is heard in the Atlanta area on Majic 107.5 / 97.5 from 6A-10A.
In a promo that ran on Friday morning, Steve said Monday's Strawberry Letter, titled "I didn't know my life was a real live strawberry letter" — is "'bout to get real." Steve said they will discuss "What got said, how everybody felt…"
Shirley made blog headlines after a YouTuber leaked jailhouse phone calls between Shirley and her jailed husband, Earnest "Ernesto" Williams. The calls were placed between October 2022 and July 2023. Both parties were warned that the calls were being recorded.
In Thursday's leaked jailhouse audio from November 2022, Shirley feared that her job may be in jeopardy if it got out publicly that her husband was in jail for fraud and other serious charges.
Shirley, 69, said she spoke with her boss, Steve, who reminded her of a conduct clause in her contract with iHeart Radio in Atlanta.
Steve, 66, reportedly told Shirley to distance herself from Ernesto or she would risk losing her job.
Shirley's career began in Chicago as co-host of The Doug Banks Show. She was later offered a gig on The Beat, on KKBT-FM in Los Angeles, before landing a job on The Steve Harvey Morning Show.
In the latest leaked phone call, a nervous Shirley seemed to anticipate losing her job. She told Ernesto she might move to Los Angeles after losing everything, including her home, car and $200,000 wedding ring.
Ernesto subtly told her to "walk away" and "do what you got to do." But Shirley dug in her heels.
"Well, honey, let me ask you this — and I'm asking you this 'cause I want to be crystal clear," she said, "You're not talking about divorce are you?"
Listen to the audio below.


In a phone call leaked on Sept. 6, Shirley expressed envy over the ultra lavish lifestyle of her boss's wife, Marjorie Harvey.
Shirley talked about Steve's high-maintenance wife, Marjorie, who is living a luxury lifestyle that Shirley can only "dream" about.
"You know what… Marjorie has her own workout room and her own spa. She could go in there and get massages every day," Shirley told Ernesto. "People come to her house and work her out – all of that. I was like, oh, god, what a dream."
When Ernesto asked if Marjorie looks old, Shirley said Marjorie wasn't at home when she visited.
"If she was there we probably wouldn't have been all over the house," Shirley laughed. She suggested that Steve is "scared" of Marjorie.
"She looks at us as the help," Shirley said later in the phone call. "That's not a good feeling," said Ernesto.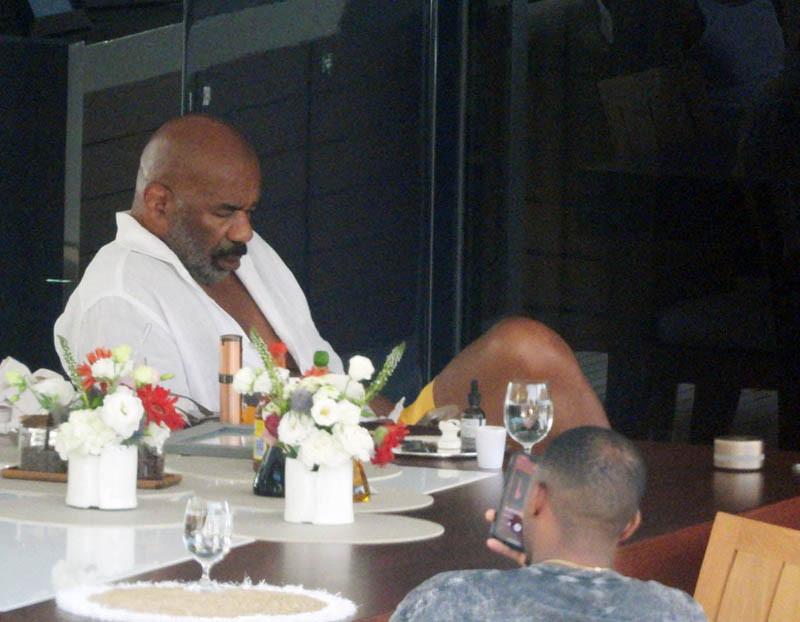 Shirley also commented on her boss Steve's poor health, saying he has difficulty breathing while walking up the stairs in his mansion.
"When he walked up those stairs he was very winded, very winded," she said.
"I don't know if he does cardio. He just lifts weights… You gotta do something for your heart," she added.
Shirley said she exercises to avoid experiencing respiratory distress like her 66-year-old boss.
"I don't want to be winded like that," she laughed. "And I'm three years older than he is!"
Ernesto, 58, was arrested on fraud and child p0rnography charges in 2022. Police allegedly found indecent photos of an underaged child on his computer.
He was also hit with a laundry list of charges, including wire fraud and identity theft.
Listen to the audio below.


A YouTuber filed a public records request for audio of the jailhouse phone calls which reveal Shirley is still communicating with her cheating husband who has a mistress on the side.
He was charged with operating a credit repair scam along with his mistress Ericka King, 48, who allegedly pretended to be his attorney. King is currently out on bond awaiting trial.
There are also jailhouse phone calls between Ernesto and his mistress that you can listen to here.
In the latest phone call leak, Shirley tells Ernesto that the police seized her truck outside a hair salon in Roswell, Georgia.
"What truck?" Ernesto asked her.
"What do you mean what truck?" she responded.
"Why would they do that?" he said.
Shirley said police told her the truck was being seized to pay restitution to Ernesto's victims. She also said police seized her $200,000 wedding ring.
She said police showed up at a hair salon where she was and they waited outside for her. A tow truck arrived and towed her vehicle.
Shirley said police offered her a ride home, but she declined. She said her hairstylist gave her a ride home.
"What kind of sh*t is that?" Ernesto said.
"The same officer that arrested you was there. Officer Fields, the little white lady," she told Ernesto. "I guess they've been following me," she said.
Shirley said the officer set Ernesto up.