Update, Sept. 12, 2023 at 11:15 AM:
Steve Harvey, host of the Steve Harvey Morning Show, defended his wife, Marjorie, during a very emotional "Strawberry Letter" segment on Monday, Sept. 11.
During the segment, Shirley tearfully apologized for saying Steve is afraid of Marjorie.
Shirley, 69, also said Steve, 66, was physically unfit and struggled to breathe after climbing the stairs in his sprawling Atlanta-area mansion.
When it was Steve's turn to talk, he staunchly defended his wife, who was previously accused of sleeping with his bodyguard and causing the breakup of Steve's marriage to his second wife.
Steve denied accusations that Marjorie is a gold digger who broke up his marriage to Mary Harvey. He divorced Mary in 2005 and married Marjorie in 2007.
"Marjorie don't really get into all this right here," he said. "Look, I'm so used to getting beat up, but I didn't know how Marjorie was feeling about everything that's out there. Because these bottom feeders are just beating my wife up… and I'm tired of it."
Steve continued: "And then it's the Black bloggers that's the nastiest when it comes to all of us. And that's the part I want to get at and then I'ma let it go — 'cause after today there will be no more."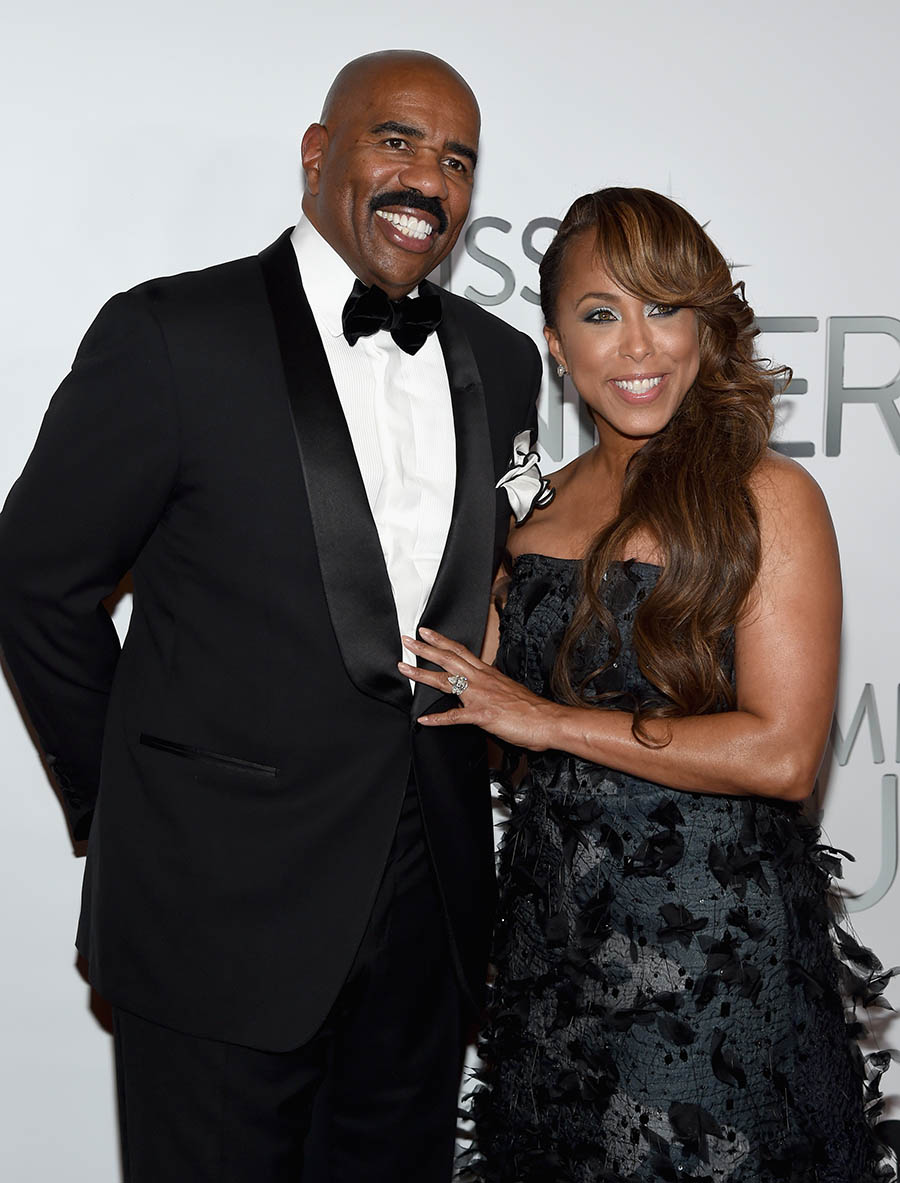 He described Marjorie as a "good woman. She's the best thing ever happened to me. She's God-fearing, she's loyal, she's faithful, and she's a kind and loving person. I don't care what nobody say — and y'all quit talking about she was in my other marriage and ruined it. She didn't. She was nowhere around that. I got divorced in 2005. My marriage was over when the "Kings of Comedy" was out. Y'all ain't know that though did you? It was over then."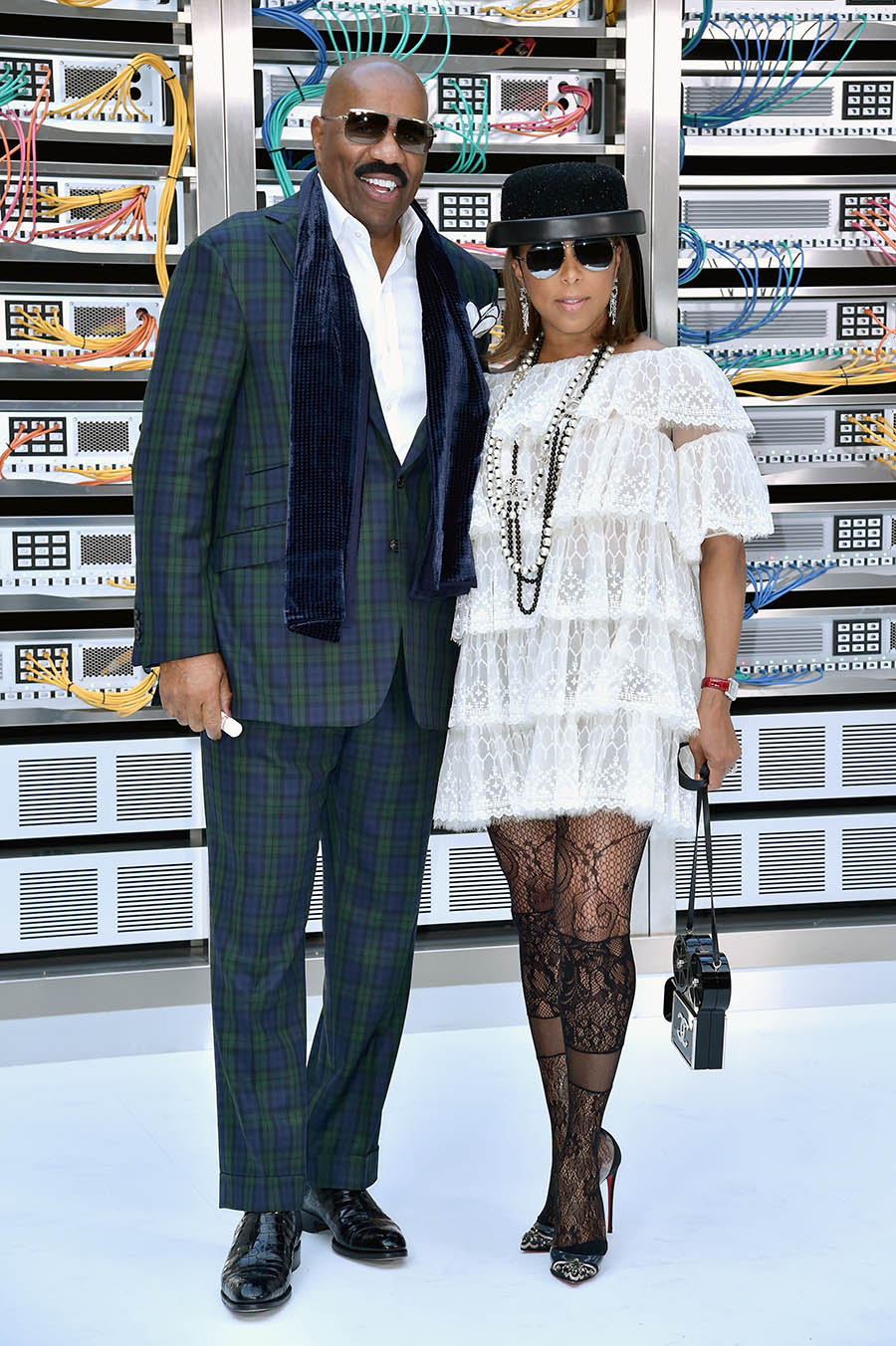 Steve added: "Marjorie and I got together in 2006. We had nothing. She didn't marry into no lap of riches. I had nothing. when I asked her to marry me at the end of 2006 — and then she said she wanted to get married in 2007, I said it was too soon. 'I gotta get some stuff together…' She said 'What?' I said, 'Baby, I ain't really got nothing. I'm trying to build.' She said 'I'ma get in there and build with you.'"
He continued: "Do you know what I was doing in 2007? Nothing. We had four stations, we built this… That woman got down in that foxhole with me and turned this into something. In 2007 we got married, in 2008, we found out that somebody had stolen 7 years of my tax returns — I ain't gon' mention no names — and we owed the government $22 million and we in debt."
"In 2009, I got Family Feud. In 2009, the book came out, in 2012, the talk show came out. I'm telling you, this woman got in the hole and built this with me. She didn't steal nothing, and I'm tired of y'all talking about my girl – 'cause my girl is one of the best women I've ever met. And while you Black ass people out there got these blogs like you just gon' destroy somebody. I don't really know what that's about. But don't worry about it 'cause it ain't working!"
Co-host Shirley Strawberry finally addressed leaked audio of intimate and highly personal phone calls with her jailed husband Ernesto Williams.
Ernesto, 58, was arrested last year and charged with multiple counts of fraud, identity theft, and child p0rnography. Ernesto is still being held in jail without bond.
Morning show listeners wondered when Shirley would address her husband's criminal activity.
Then a YouTuber filed a Freedom of Information Act (FOIA) request for copies of any jailhouse phone calls between Ernesto and Shirley. The YouTuber has been leaking the phone calls on YouTube daily since last month.
After speaking with Steve and the morning show crew, Shirley decided to address the phone calls on Monday morning's show.
Fighting back tears, Shirley apologized to Steve for saying he was struggling to breathe while walking up the stairs at his sprawling Atlanta area mansion.
"I for sure didn't want your name mentioned in any kind of way associated with my mess," she said. Shirley also said she called Steve immediately after the audio tapes were leaked. "It was a hard call to make."
Shirley also clarified that Steve did not introduce her to Ernesto. She said a former friend introduced them.
Shirley said her life has been a "nightmare" and she had no idea the phone calls would be released to the world.
"I knew [the calls] were being recorded but I didn't know they would go out to the world," she said. "I was just trying to make conversation with [Ernesto]. Just get him to think about something other than where he was," she added.
"I haven't spoken to him in quite some time," she said of her estranged husband. "Divorce proceedings are underway. And, Steve, at this point, all I can say is all I have is my faith."
Steve said he and the morning show embraced Shirley and created a safe space for her while she made up her mind to discuss her own Strawberry letter. Shirley's voice broke as she called the morning show crew her "family".
"It was just hard for me to bring this particular thing up. I was just embarrassed and humiliated… it's not that I didn't want to talk about it. I just couldn't find the words."
Listen live below.